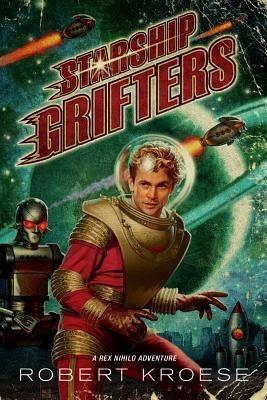 The book was found on my doorstep one uneventful Friday.  The door was opened, and there was a plain brown envelop.  I ripped open the envelop and found "Star Ship Grifters".  I slipped into reading mode and read the first paragraph, and I  knew that this book would make my day more interesting.
Starship Grifters is a three snort hilarious planetary road trip, through a George Lucas parallel universe, with a little glimmer of Ian Flemming (James Bond). 
   My joy in reading this story was not the polish of heroic soldiers (Luke Skywalker, Han Solo, Princess Lea); but of reading of a bumbling, clueless hero named Rex.  Rex is an idiot savant.  He, like Voltaire's Candide, walks into trouble without realizing the peril.
   The trouble begins when Rex attempts to solve his personal debt crisis by taking part in a game of chance.  The game of chance is won, but the victory is just the beginning of Rex's troubles.  The quest leads Rex in a battle to restore balance to his life and maybe become a little less debt ridden.   Rex's goals are small but this does not mean they are easily come by.  
   The story is narrated by Rex's  personal robot assistant  who must keep from thinking or suffer hard reboot.   The dilemmas in this story make it comedic.  The book is average for a star-ship comedy, but this does not mean that it is not worth the read.  I think this book would have made Groucho Marx smirk; you can bet your life.