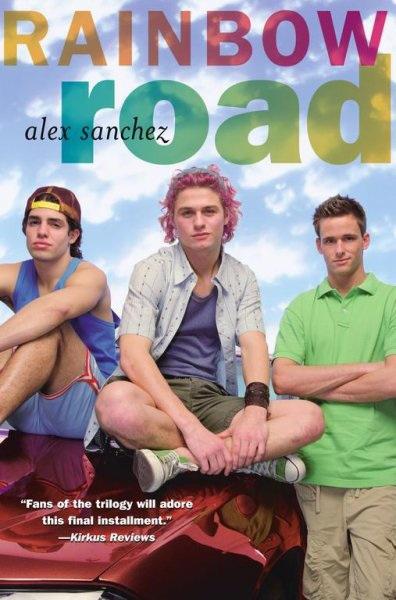 Title: Rainbow Road
Written by: Alex Sanchez
Series: Rainbow Trilogy
Publisher: Simon & Schuster
Publish Date: October 4, 2005
Genre: Gay YA Contemporary
Pages: 256
Source: Bought at Indie Bookstore
Buy the Book: Rainbow Road
Synopsis: Jason Carrillo came out to his basketball team senior year and lost his university scholarship. Now, with graduation behind him and summer ending, he's asked to speak at the opening of a gay and lesbian high school across the country. But after spending years in the closet and losing his scholarship dream, what message can he offer?
Kyle Meeks is getting ready to go to Princeton in the fall and trying to see as much as possible of his boyfriend Jason before they have to separate. When Jason tells him about his speaking invitation, Kyle jumps at the chance to drive across country with him. Yet he can't help worrying: Will their romance survive two weeks crammed together in a car?
Nelson Glassman is happy his best friend Kyle has found love with Jason. Now he's looking for his own true love — and hopes he might find his soul mate during the road trip. But will being the "third wheel" in a trio ruin his friendships with Kyle and Jason?
During an eye-opening postgraduation summer road trip, each of the three very different boys also embarks on a personal journey across a landscape of love, sexuality, homophobia, and above all, friendship. (Via Amazon)
Brian's Review: Yes, it's over, and I am sad. Rainbow Road concludes my favorite trilogy of the year, in the installment that may be the best of them all. Alex Sanchez could have done the same old-same old with this third book, but instead he made the wise choice and did something a little different, in a scenario that puts Jason, Kyle, and Nelson in a car together for two weeks, keeping them connected for the book's entirety as they come to terms with their futures.
Shaunta walked up to me at our local indie bookstore Grassroots Books with all three of the Rainbow installments in her hands and told me to buy them, don't think about it, don't read the synopses, just get them. And I did. I'm so, so happy I did. These three books have given me more pleasure in 2013 than any other reads, and I'm so thrilled Alex Sanchez wrote three of them. The knowledge you have of the characters from the first two books really plays into the magic of their journey in Book 3. Shaunta and I read Rainbow Boys for our Book of the Month in March, and while Shaunta simply liked it, I went nuts for it. Obviously, as a gay man, the book spoke to me, and it was the kind of story, like David Levithan's Boy Meets Boy, that I wish I could have read back when I was in high school and college. Rainbow Boys is all about first love and coming out, while its sequel Rainbow High, picks up right where Rainbow Boys ends. In a sense, Rainbow Boys and Rainbow High are pretty much the same book, with more development in the second book about Kyle and Jason's blossoming relationship, and Nelson's infatuation with a boy who is HIV-positive.
Rainbow Road is something different, though. When Rainbow High ended at the senior prom, I assumed the third and final book would pick up at the prom, then go through to graduation, and maybe a little after. Instead, Rainbow Road flashed forward three months, to August. The boys have graduated from high school, and college life is mere weeks away (at least for two of them). Kyle is about to leave, and isn't sure if his relationship with Jason is going to last long-distance, and Nelson still isn't sure what he wants to do. Will the three friends ever spend any more quality time together?
A fantastic opportunity presents itself when a high school in Los Angeles asks for Jason, an athlete who publicly came out senior year, to fly across the country and give a speech to its students. Instead of fly, however, Jason and Kyle decide to head to L.A. by car, and they ask Nelson to come along for the road trip. In the first two books, there were very few scenes that ever go all three of the main characters together, but in Rainbow Road, they're together almost the entire time, and it makes for some great dialogue, funny scenarios, and memorable moments. They meet a transgendered man, escape homophobic rednecks, watch in awe at the love shared between two men who have been together for twenty years. Rainbow Road offers a great journey for the reader, as we get one last opportunity to spend time with three characters we've come to know and love. And in the end, all three characters are left at a place where, as we hoped, all their dreams just may come true.
I've been raving about these books for the last six months, and now having finally come to the end of this story, I just have two questions. One: how do I get readers, both gay and straight, to give these books a try? And two: would Alex Sanchez ever consider writing another sequel, where we get to see where Kyle, Jason, and Nelson are 10 years after the events of Rainbow Road? I would love to catch up with these characters a decade later, to see how they're doing. But even if Sanchez never writes another word on these characters, I am grateful for this beautiful story, which started with a closeted jock walking into a gay and lesbian youth meeting, and ended with the same young man telling a large audience of gay students the story of how he came out, stood up to his father, fell in love, and stayed in love. Don't miss these three wonderful novels. They're my favorite books I've read all year.