About the book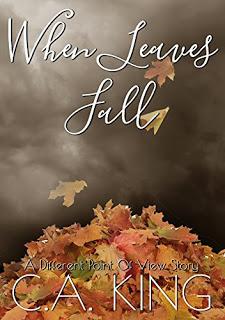 Ralph wakes up to what others only experience in a nightmare. Chained to a shed, he has no idea where he is, or who his captor is. His memories are blurred at best. As the days press on, he finds himself experiencing a roller coaster of feelings. Hunger, thirst and pain become his only companions. Flashbacks of a happier time are all he has to keep him going. As his situation deteriorates, he finds himself doubting he ever had the very thing he wants most - a family.




When Leaves Fall is a dramatic thriller with a twist. Keep the tissue box close for the ending.




WARNING: Sad ending

My Review

Ralph isn't sure what is happening. He is chained in an isolated and desolated place and isn't sure why is he there in the first place. Who chained him and why? How can you treat a living creature this way? He is forced to use a corner outside the door as a bathroom, and has nowhere to go and there is no one in the vicinity to help him.
Now who is Ralph and why is he chained. The mystery that surrounds the story creates an atmosphere of oblivion. I wouldn't be a spoiler and you need to buy and read the book to find out what happens next to Ralph. Honestly speaking it was mind blowing when I found out who is Ralph and why was he left alone.
The author has really added an unexpected twist to the story and I really liked a part of the story that says
"A single falling leaf grabbed Ralph's attention. It fluttered playfully about, caught in a gust of wind. It blew around in circles a few times before drifting peacefully down to join the others. How lucky that leaf was. If, at that exact moment, he could choose to be anything, it would have been that leaf. Ralph sighed - brought back to reality by another problem he didn't want to face."
Interesting piece of story with a twist, that was totally unexpected. Anyone reading the story can relate to message the author has tried to convey to her readers. I like the story and would love to read more of her work.
This book was an "OnlineBookClub.org Book of the Day"
Read more about the book at Online Book Club.