The end is the new beginning!
They say for the new to grow and nurture, the old has to be destroyed.
Extraordinary Stories of Ordinary Women the "Unfettered Wings", by Sana Munir shook me the core, making me realize of the fragile world we live in. One that can break at any moment and they too say that "things are not what they seem."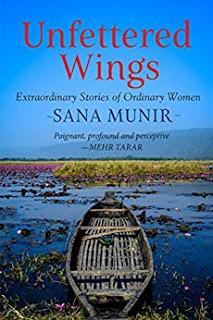 We seem to have tread in a treacherous paths with the expectation to see a beautiful world beyond the horizon, but at the same time we might get famished, if what lies beyond doesn't fathom the expectation we had.
Sana Munir have woven stories with endings that will make you question the very existence of human beings and once you have finished reading, you will be left all alone to search for the meaning humanity, like an oasis in a desert.
The stories will have a deep impact on you and will alter your way of thinking about women. Women who have faced all odds but have stood the test of time being bold and fearless. These stories might have happened to women in a certain period of time. Having said that, it might be possible that these are real stories, which we can relate to and sadly such circumstances and scenarios are still a part of today's world.
The author has given a voice to these stories. Ones that aren't spoken of or would have succumbed to the noise around it.
However challenging life might become, it can't rain forever! Life will always find a way to to grow. Its in its very DNA to do everything in its power to make human lives better and in case of the women mentioned here, it might have left scars on them but have made them bold and fearless. And made them
the ones we call as "the survivors."
Never ever have I come across a book of any genre, that has shook me to the core. It has let me with so many emotions running at the same time that I was confused how to handle it all at the same time. For most of the time the emotions are extreme. Lives are being shattered and then there is a ray of hope with love stories and then they are totally unpredictable in ways that I haven't imagined. So, much has happened in the stories that it will take a toll on you and can affect you in many ways.
An eerie silence took over me, mixed with bewilderment when the author silently questions the very existence of human beings. Some stories left me numb and some tore me apart.
How can you pen down so many emotions and write the harsh realities of life in a single book, I wonder?
Only a person with incredible story telling skills can do such a magic. Hats-off to Sana Munir to have penned down such wonderful stories.
"Unfettered Wings" will send a chill down your spine and will shake the very ground beneath your feet and at the same time will kindle and nurture hope. Hope for a new beginning.
You might question how? How on earth is it possible to have such diverse nature of stories be in a single book.
Ah ha! There is one way.
Start reading from Page 1. The stories will spellbound you and you will be amazed by the versatility of the author, her command over the story telling skills and the nature of stories that she has chosen to share.
You won't survive the landslide of stories that this book has to offer. The messages they deliver are a question to humanity and on its true existence. Not only that it expects us to care for everyone around us and to treat them with respect. Only then the true purpose of the stories will be fulfilled.
Happy Reading!