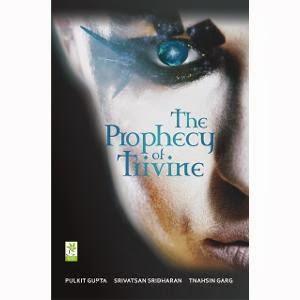 The Prophecy of Trivine
The story starts within a college where Phil, the hacker is on the verge of getting caught by police for hacking the government's website and leaking out sensitive information. Next as he runs away from the police he heads into the forest for protection and finds an old and dilapidated building which is not inhabited but latter finds that it is occupied by a scientist, Shiv. Now it was the turn of the authors to introduce the next character Arty, a painter who meets Shiv in the jungle, while catching a fish.
Now little did the three know that they hold in their hands the future of mankind, and much beyond imagination, they are connected through an ancient Prophesy that was long lost in the sands of time.
My review
I just loved the book, as such I love sci-fi books and anything that has alien on it is a must read book for me. The book is filled with all the stuff that keeps you in the hunt for what happens next as the pages are turned over. And once you have quenched your thirst, you are thirsty for more and it stops only when you have reached the last page.
  

Alien technology married to creativity and imagination is something that is what you will discover in this book. So, start imagining for the book will give you goose bumps as you turn the pages. A lot was expected from the ending, it wasn't as much expected, and there should have been a twist in the end rather it ended without a hint. But overall it was on imaginations and the plot was based on the facts known to mankind, but the plot and the sequence of events were good and unpredictable.
I am thankful to Tnahsin for considering me to review this book. It was indeed fun and great to read the book. Hope, you fascinated the world with your imaginations and creativity with your next novel.
Authors
Pulkit Gupta-
Pulkit is a computer engineer who has completed B.Tech from Thaper University and currently works as a technology analyst for Goldman Sachs in Bangalore.
Srivatsan Sridharan
- Sridharan who has completed B.Tech from Thaper University and has earned a Masters Degree in Computer Science from Purdue University, United States and works as a software engineer at Yelp, San Francisco.
Tnahsin Garg
- Tnahsin has completed his Bachelors in Engineering from India and has Masters in Science degree from United States and is currently pursuing a PhD from Europe.