Book review of The Last Valentine
The Last Valentine is one of the phenomenal book that I have come across in a long time.
"Love acknowledges no limits—not even the grave."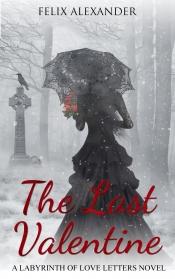 This book has redefined love and has elevated the way you knew about love in your life. It is just at another level where only the best of the best romantic author's dare to tread. The classic story telling ability, which makes the reader spellbound can only be done by someone who truly loves his work. It is the love for one's craft that pushes you out of your comfort zone to put your feelings in words.
I really love the story telling and the plot of the story. And what keeps you turning the pages is the mystery that surrounds the story. An eerie silence that it leaves you with when the author takes you to a graveyard to share the secrets about love only in the presence of the dead.
The author has made a perfect mixture of the dead, living and the love between them when both the love birds were alive and when separated by fate long to meet their partner after death.
You won't realize when your two minutes become two hours, while reading the story. Time will just fly away when you are engrossed in the story, but I can assure you, that you will be left with a story that will have a long lasting effect on you.
Read more about the book at Online BookClub.
This book was an "OnlineBookClub.org Book of the Day".