About the book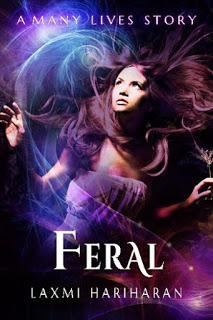 **Short 15,000 word, standalone story, set in the Many Lives Universe**
He was her destination. She just didn't know it.
When Maya leaves Luke to go in search of her blood family, nothing prepares her for the secrets she uncovers about herself.
An intense, shifter romance, set in Bombay. A standalone novelette in the Many Lives universe.
Background to the Many Lives Universe
The Many Lives series begins in present day Bombay when a tsunami wipes away much of the city. Post-tsunami Bombay of the future is one of the most prosperous cities in the world. On the other hand, successive economic downturns have stripped most Western of its wealth, pushing many to seek a new life in the East. Refugees from Europe now pour into Bombay, into the camp nicknamed the Jungle. And no one is safe from the growing menace of the merciless human-wolf hybrids and vampires.
Each book in the Many Lives universe is a stand-alone in the series. A possible progression is as listed below
My Review
Feral is the story of the protagonist Maya, who is raised by the werewolves and is waiting to become one of them. Even though she is sixteen she still hasn't felt the werewolf's instinct, which she complains to her mother. Latter in the story she realizes that she is 100% human who was brought up by the werewolves. The story revolves around the protagonist and describes how she feels once she finds out that she is a human.
When Maya finds out that she is a human she longs to be with the humans. She finds Jai, the son of the Mayor of Mumbai city. After meeting Jai a couple of times she falls in love with him but is torn apart because she harbors feeling for Luke a werewolf, with whom she has spent the most of the days of her life.
Maya has a lot of things happening in her life. She learns that she doesn't belong to the pack and she has to find who her true parents are. Another she is in turmoil in choosing between Jai and Luke. Though the story doesn't says whom is she going to choose over the other.
I liked the story and how wittingly the author differentiates the lives of werewolves and that of humans. How the humans have restrictions and laws to govern them and have to control their emotions and the werewolves have the freedom to choose whatever their heart says.
I liked the plot of the story but was confused how Maya realized who her true parents are and how easily her werewolf mother let her go when Maya found that she is not her daughter and is a human.
Overall it is great story to read in a short time.