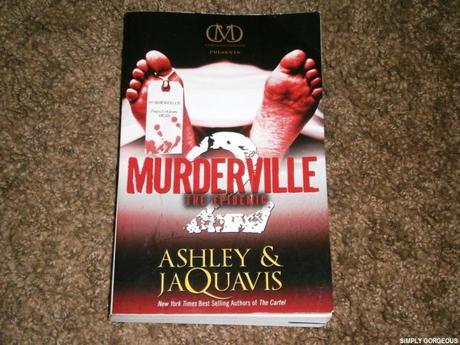 Happy Friday! So recently I finished this amazing book–OMG it was so good I couldn't wait to share this book with you all! Me and my twin have been reading the same books lately and it's great because then we talk about it which I love :) anyway keep reading for all the deets.
Review: Murderville 2: The Epidemic by Ashley & JaQuavis
Synopsis: New York Times best-selling authors Ashley & JaQuavis are back with the second installment of the epic Murderville series. Love, murder, loyalty, and money fill this hood tale as they continue this international street saga.
With Samad's target on her back, Liberty must survive the harsh streets alone. But when a chance encounter pushes her into the arms of a new friend, Po, the two take on the California kingpin and step full force into the game. As bullets and sparks fly, the unlikely pair embark on a serendipitous journey back to where it all started. Sierra Leone. With a new overseas connection, Po see an opportunity that is too good to pass up. When his pursuit of the American dream conflicts with Liberty' s past, will they be able to survive? Or will the drug empire that they've built together come crashing down?
# of Pages: 336
Also by Ashley & JaQuavis:
Murderville
Dirty Money
Diary of a Street Diva
Supreme Clientele
The Trophy Wife
The Cartel
The Cartel 2
The Cartel 3
Girls from da Hood 4
Girls from da Hood 6
Kiss Kiss Bang Bang
Black Friday
Prada Plan 1
Prada Plan 2
The Dopeman's Wife
The Dopefiend
Dopeman
Moth to a Flame
I read the first book in this Murderville series and from the first page I was hooked and knew that I wanted to finish this series. These books have so much drama and craziness that keeps you on the edge of your seat until the end. This book also has a lot of twist and turns that keeps you guessing which is something I love for books to have, if I can figure everything out early then I lose interest in the book.

The characters in these books are very relatable and this is an easy read, the authors do a phenomenal job describing every scene and there is so much detail honestly it feels just like I'm watching a movie when I read books by Ashley and JaQuavis, I have read a lot of books by these two and I have loved every one. If you love to read books with some drama and you're into "hood tales" then I definitely recommend this book to you because I know you will love it just remember to read the first one so you won't be lost :) I have already started reading Murderville 3 and of course it's good and when I finish it I will be sure to review it and share my thoughts with you all. You can purchase this book along with others by clicking here.
This book Murderville 2: The Epidemic by Ashley & JaQuavis is Simply Gorgeous Approved.
What book are you currently reading? Let me know in the comments.
Stay Connected!