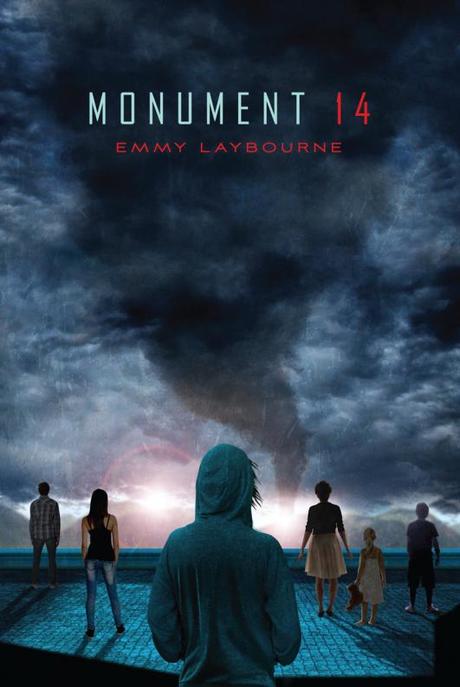 Title: Monument 14
Author: Emmy Laybourne
Series: N/A
Publisher: Feiwel & Friends
Publish Date: 6/5/12
Genre: YA Dystopian
Pages: 304
Source: Purchased for Kindle
Buy the Book: Monument 14
SUMMARY: Fourteen kids. One superstore. A million things that go wrong.
In Emmy Laybourne's action-packed debut novel, six high school kids (some popular, some not), two eighth graders (one a tech genius), and six little kids trapped together in a chain superstore build a refuge for themselves inside. While outside, a series of escalating disasters, beginning with a monster hailstorm and ending with a chemical weapons spill, seems to be tearing the world—as they know it—apart. (Via Goodreads)
BRIAN'S REVIEW: Reading the synopsis of Monument 14 last June immediately reminded me of one of my favorite Stephen King novellas — The Mist — in which a group of people in a small town have to ward off outside terrors in a grocery store. In Monument 14 it's a chain superstore, and instead of a mix of every age group, it's high school kids, middle schoolers, and even a few young children. With no adults to take charge, the oldest in the bunch – including the narrator Dean – have to deal with an unthinkable, terrifying predicament. While not a particularly original concept, Monument 14 still managed to keep me hooked from beginning to end, with its solid pacing, intriguing world building, and memorable cast of characters.
This is Emmy Laybourne's debut novel, and I'm excited to see what she comes up with next. Laybourne is an interesting case in that before she became a YA author, she was a screenwriter and character actress, having appeared in such films as Nancy Drew, The In-Laws, and Superstar, as Molly Shannon's friend Helen. One doesn't often find many authors with a background like this, and it's especially interesting that Laybourne didn't choose to writer a funnier novel for her debut. There's no sign of Superstar in Monument 14. This is dark, horrifying material, set in the near future, with an apocalypse on the horizon that can affect a group of kids who are only trying to stay alive.
I really loved the voice of the main character Dean. The novel is told in the first person, and Dean guides us through the physical and emotional stakes of the greater problem at large. I'm always intrigued when an author tells a story from the first person of a character of the opposite gender, and Laybourne really excels at creating a startling, intelligent male voice. There's also a lot of kids to keep track of in the beginning, but eventually all the little eccentricities and attributes of each character start to come out and you start to think of the group almost like a family. You don't any of them to die. You want the high school kids to keep them safe!
My favorite aspect to Monument 14 was the pacing. Sometimes with apocalyptic tales like these, there's too much time spent on the world building and not enough time spent on character development and action. Such isn't the case here. Sometimes you forget to breathe things get so exciting, especially in the rip-roaring second half. Laybourne was able to mix in comedy and tragedy and even a little romance into the scary plot line, and I'm positive teen readers are just going to gobble this up. I really enjoyed this one, and look forward to Laybourne's second novel!