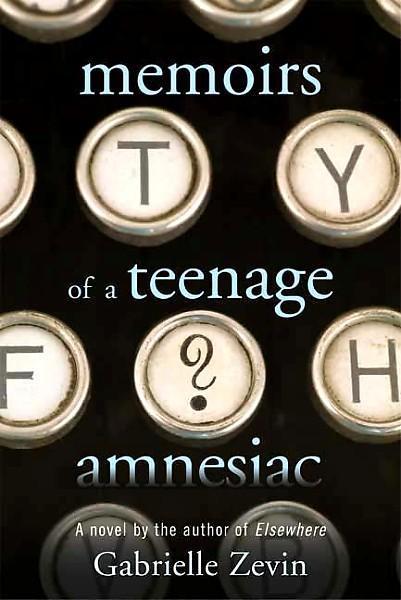 Title: Memoirs of a Teenage Amnesiac
Author: Gabrielle Zevin
Series: N/A
Publisher: FSG
Publish Date: August 21, 2007
Genre: YA Contemporary
Pages: 271
Source: Bought from Indie Bookstore
Buy the Book: Memoirs of a Teenage Amnesiac

Synopsis: If Naomi had picked tails, she would have won the coin toss. She wouldn't have had to go back for the yearbook camera, and she wouldn't have hit her head on the steps. She wouldn't have woken up in an ambulance with amnesia. She certainly would have remembered her boyfriend, Ace. She might even have remembered why she fell in love with him in the first place. She would understand why her best friend, Will, keeps calling her "Chief." She'd know about her mom's new family. She'd know about her dad's fiancée. She never would have met James, the boy with the questionable past and the even fuzzier future, who tells her he once wanted to kiss her. She wouldn't have wanted to kiss him back.
But Naomi picked heads. (Via Amazon)
Brian's Review: It doesn't happen very often. Pick up a book I know nothing about. Buy it on a whim. Randomly grab it from the bookshelf and read the first five pages, just to see if it's something interesting. And then read 5 more pages. Then 50 more. Memoirs of a Teenage Amnesiac is an enchanting YA novel, one of my favorites I've read since I started reading more YA fiction about a year ago this month.
My journey to even reading this book was a long and detailed one. Last August my favorite local indie bookstore Grassroots was having a dollar YA sale for hardbacks, so I loaded up, buying a whopping ten books. I knew about some of the books, and some of the authors, but didn't know a thing about Memoirs of a Teenage Amnesiac. The cover is super boring, and the synopsis just sounded OK. Why did I buy it? The author's last name starts with a Z. Authors with the last name of Z are always relegated to the bottom right of the shelf, where seemingly only Marcus Zusak has any success. That's why I bought this book. I wanted to support an author with the last name of Z! So the book sat on my shelf for about six months. I started a few of the other hardbacks I got in the sale but didn't really care for them. Memoirs of a Teenage Amnesiac was one of the last to read, and Thursday night I decided to read the first chapter, just confirm that it was lame so I could move onto something else. But I didn't move on. I kept going. I knew by page 3 this author knew what she was doing, and by the end of the first chapter, I realized I had found something special.
The novel tells of a high school junior named Naomi who falls heading down a flight of stairs, hits her head, and wakes up having forgotten everything in her life that's occurred after sixth grade. Five years, just gone. So she doesn't know her current boyfriend Ace. She knows nothing about her classes, and her teachers. She knows her best friend Will but has no idea what may have happened between them just before she blacked out. The synopsis for some reason didn't call out to me on the book jacket, but it's a winning one, as we, along with the main character, discover the truths of all the family and friends and boyfriends in her life at the same time she does.
Author Gabrielle Zevin, who won multiple awards for her 2005 debut novel Elsewhere (which I must find as soon as possible!), and who was nominated for Best First Screenplay at the 2005 Independent Spirit Awards for Conversations With Other Women (2005 was a good year for her!), has a great voice as a writer. She uses simple, elegant prose that bring you right into the heart and mind of her protagonist. And she has a gift for building complex characters. All of the supporting characters breathe life. I loved her best friend Will, whose whole life revolves around yearbook. The guy she might-or-might-not-be-in-love-with James, who has a haunted past, but in the present takes part in a dream job—projecting movies for the local community college film classes. Her relationships with both her father and mother are worthy of whole novels themselves, they're so complicated and fascinating. The book made me laugh—a lot. I saw myself in so many of its pages. I absolutely loved it, and while reading it, I was hoping somebody would make a movie adaptation, something along the lines of last year's masterpiece The Perks of Being a Wallflower—until I found out there IS a movie, with an Asian flair. How random, and amazing! How do I find it?? Check out the preview below!
Memoirs of a Teenage Amnesiac taught me a lot: about my own writing, about plotting and character development, about never judging a book by its cover, by giving something a chance even if you're not sure what to expect. I found this novel just as beautiful as The Perks of Being a Wallflower, and as joyous as the works of John Green. It's the first of my favorite titles I read in 2013. Fantastic!