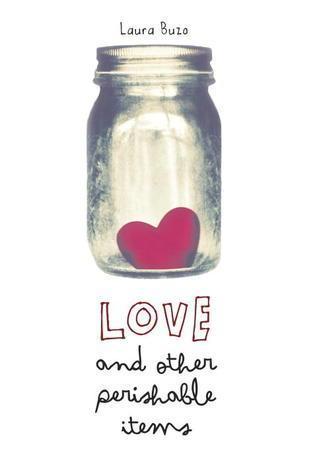 Title: Love and Other Perishable Items
Author: Laura Buzo
Series: N/A
Publisher: Knopf Books for Young Readers
Publish Date: December 11, 2012
Genre: YA Contemporary
Pages: 245
Source: Purchased on Amazon
Buy the Book: Love and Other Perishable Items
Synopsis:
 Love is awkward, Amelia should know.
From the moment she sets eyes on Chris, she is a goner. Lost. Sunk. Head over heels infatuated with him. It's problematic, since Chris, 21, is a sophisticated university student, while Amelia, 15, is 15.
Amelia isn't stupid. She knows it's not gonna happen. So she plays it cool around Chris—at least, as cool as she can. Working checkout together at the local supermarket, they strike up a friendship: swapping life stories, bantering about everything from classic books to B movies, and cataloging the many injustices of growing up. As time goes on, Amelia's crush doesn't seem so one-sided anymore. But if Chris likes her back, what then? Can two people in such different places in life really be together?
Through a year of befuddling firsts—first love, first job, first party, and first hangover—debut author Laura Buzo shows how the things that break your heart can still crack you up. (Via Amazon)
Brian's Review: Last December the William C. Morris award finalists were announced, and I did what I rarely do: I purchased two of the five titles at full price and eagerly awaited their arrival in the mail. The Miseducation of Cameron Post was a book more in line with my interests, with its fascinating storyline of a young female homosexual dealing with parental loss and religious bigotry, but Love and Other Perishable Items had an interesting synopsis, too, so I snatched it up. The book has been sitting under my bedside table for about three months, and I finally started perusing it earlier this week. I'm glad I did. Love and Other Perishable Items is an enjoyable, if brief, young adult novel that has a striking voice for its lead character, fifteen-year-old Amelia.
The story is simple. Amelia is an intelligent, free-spirited bookworm who takes a part-time job at a grocery store and falls in love with a boy Chris. The only problem is the boy is six years her senior. The novel is set in Australia, where apparently the consenting age for sex is sixteen, not eighteen like in America. Therefore, as Amelia falls deeper and deeper in love, she waits with anticipation for her sixteenth birthday. But does Chris like her back? The novel works best when we follow the protagonist Amelia in the highs and lows of her daily life, as she flirts with Chris, but also as she deals with all the issues that involve a girl her age. Author Buzo has a very warm, inviting writing style that is a pleasure to read, with the dialog especially true-to-life. When Amelia finally shares her first kiss with Chris, only to then collapse from the disappointment of what he does the following day, you really feel her sorrow. While Buzo's prose are sparse and to the point, they make for an enchanting reading experience.
If the entire book had been told from Amelia's perspective, I would probably give Love and Other Perishable Items a big rave, but about a third of the book is told through her object of affection's diary entries, which didn't work as well for me. If Buzo wanted to bring in Chris's perspective, I would've preferred two first-person narratives interweaved with each other. The diary element reads a little cold, even forced at times, and essentially the last forty pages of the novel are written in this matter. It's possible this style could have worked if what appears in Chris's diary is illuminating and insightful, but it reads mostly as random thoughts and incidents, with only the occasional emotionally relevant moment, like at the very end, when we discover how he truly feels about Amelia. I also would've preferred a little more closure at the end of the book. The very final scene leaves Amelia in a good place, but one of uncertainty. I didn't need a happy ending that tied everything together in a cute little bow, but something a little more satisfying would have been welcome.
Love and Other Perishable Items is a fun, breezy, and romantic YA read that I recommend, with some reservations. Amelia is one of the most endearing lead characters I've read in a book in quite some time. I just wish, since the book is pretty short anyway at about 240 pages, that more time had been spent in her perspective, rather than Chris's. Still, it's definitely worth checking out, and I look forward to see what author Buzo does next.