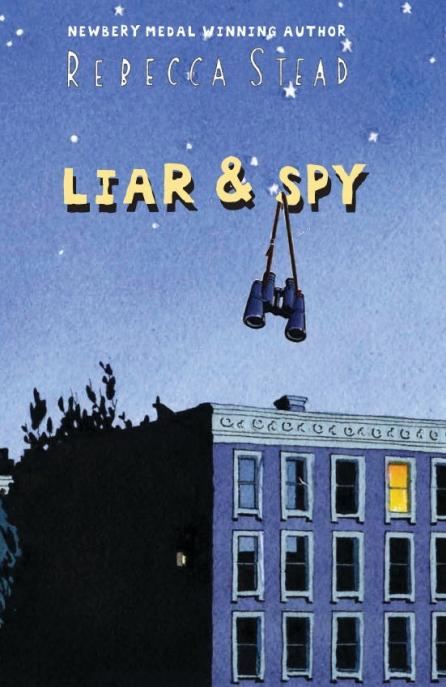 Title: Liar & Spy
Author: Rebecca Stead
Series: N/A
Publisher: Wendy Lamb Books
Publish Date: 8/7/12
Genre: Middle Grade Contemporary
Pages: 192
Source: Net galley
Buy the Book: Liar & Spy
SUMMARY: When seventh grader Georges (the S is silent) moves into a Brooklyn apartment building, he meets Safer, a twelve-year-old coffee-drinking loner and self-appointed spy. Georges becomes Safer's first spy recruit. His assignment? Tracking the mysterious Mr. X, who lives in the apartment upstairs. But as Safer becomes more demanding, Georges starts to wonder: how far is too far to go for your only friend?
Liar & Spy is an inspired, often-funny story about destiny, goofy brilliance, and courage. Like Stead's Newbery Medal-winning When You Reach Me, it will keep readers guessing until the end. (Via Amazon)
BRIAN'S REVIEW: This slim, inspired book was such a fun little read. Liar & Spy reminded me of a blend of Roald Dahl, Lois Lowry, and E.L. Konigsburg, with all its whimsy and comedy and mystery. I think if I had been 13 I would have gone totally nuts for this book. I don't read a lot of middle grade fiction, but when I saw the adorably quirky cover of this book and read the short synopsis, I knew I had to give it a try. This is a quick read, one that only takes a couple of hours. The characters and storyline grab you from the word go, and once the actual spying starts up it's hard to put the book down.
I'm excited to read author Stead's two prior award-winning novels because she truly understands how young people think, and she's able to put the reader in the kids' shoes with ease. Georges and Safer reminded me of kids I hung out with in middle school, especially the wily Safer. There are signs of the times, with the main character Georges having to transition from a house to a small apartment, due to the bad economy. At the complex he meets a pre-teen spy Safer, who made me laugh so much throughout the manuscript. Together the two try to solve the mystery of Mr. X, who lives upstairs. We've all been there, living in a place adult strangers slink in and out of their apartment units without us knowing anything about them. (This theme resonated with me so much I wrote a book about it, called Townhouse.) Second Parentheses: (Townhouse is an adult horror novel, with cannibalism, decapitations, and leg-chewing, and is not in any way a middle grade novel!)
This is the kind of book that makes you happy. There are some mystery elements to it, with an ending you won't expect, but mostly it's pure fun, and not to be taken too seriously. But what should be taken seriously is Stead's talent. She is an author I hadn't heard of before checking out this book on Net Galley (thanks Net Galley!!) and now I'm eager to check out her other books, and what books she still has to come. I'm hoping they will be many!