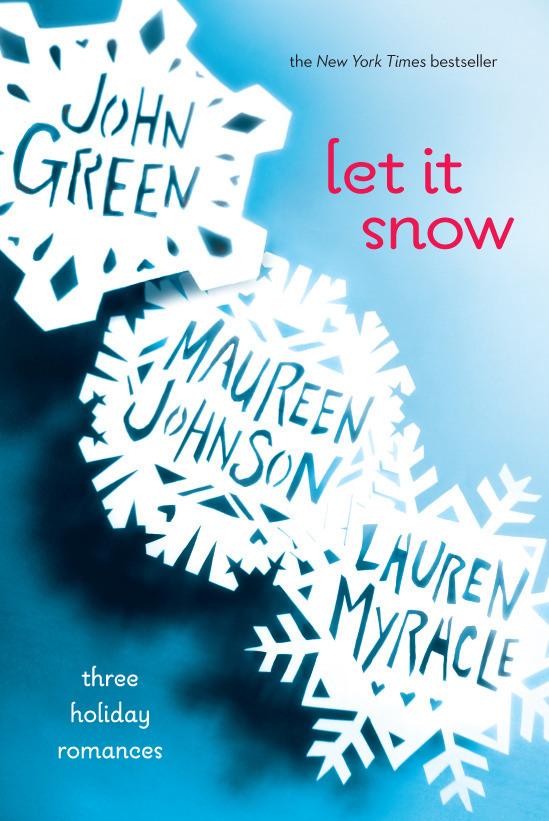 Title: Let It Snow
Authors: John Green, Lauren Myracle, and Maureen Johnson
Series: Book 2 of the Oz series
Publisher: Speak
Publish Date: 2008
Genre: YA Contemporary
Pages: 352
Source: Purchased at Indie Bookstore
Buy the Book: Let It Snow: Three Holiday Romances
Synopsis: Sparkling white snowdrifts, beautiful presents wrapped in ribbons, and multicolored lights glittering in the night through the falling snow. A Christmas Eve snowstorm transforms one small town into a romantic haven, the kind you see only in movies. Well, kinda. After all, a cold and wet hike from a stranded train through the middle of nowhere would not normally end with a delicious kiss from a charming stranger. And no one would think that a trip to the Waffle House through four feet of snow would lead to love with an old friend. Or that the way back to true love begins with a painfully early morning shift at Starbucks. Thanks to three of today's bestselling teen authors—John Green, Maureen Johnson, and Lauren Myracle—the magic of the holidays shines on these hilarious and charming interconnected tales of love, romance, and breathtaking kisses. (Via Amazon)
Brian's Review: My year began with Looking for Alaska, hit the mid-way point with The Fault in Our Stars, and ended with Paper Towns, but I wasn't about to let 2012 say bye-bye without one last foray into the world of John Green! Shaunta found a copy of Let It Snow at our nearby Grassroots Books last summer and I snatched it up immediately. And the crazy person I am, I couldn't actually read it until December 15th or so. I'm weird that with anything Christmas, I can't read it or see it until the month of December, and the minute January 2 rolls around, anything Christmas has to go. Recently I've had the Christmas songs blasting 24/7, I scoured the local library for Christmas books and films, and I kicked my feet up and took in Three Holiday Romances, all charming and fun, the perfect harmless stories to read this time of year.
The first story, "Jubilee Express," by Maureen Johnson, was my favorite. I loved the voice of the main character in this one, with her devotion to a boyfriend who doesn't care about her and her willingness to accept that a new stranger might be the guy for her. The second story, "A Cheertastic Christmas Miracle," by John Green, had the typical Green wit and charm and was over way too fast at just over 100 pages. I wanted more! The third story, "The Patron Saint of Pigs," by Lauren Myracle, was the longest and most drawn-out story, with a character was a little bit on the selfish side. I liked the way Myracle integrated a crappy early morning shift at Starbucks, of all places, with sweet romance and the Christmas spirit. All of the stories are integrated in subtle ways and do come together as a whole in the end, more so than I was expecting.
Let It Snow is a quick, entertaining read, the kind that you enjoy and makes you smile while reading it, but that you pretty much forget by the time you move onto the next book. It's kind of like Christmas gifts in a way, I guess. Does anyone remember what he or she received for Christmas last year, or the year before? But while the stories are somewhat forgettable, I'd still recommend Let It Snow. It's fun, and sometimes that's all we need this time of year.