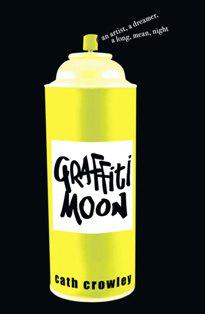 Original Australian Cover

At First Sight: It's the last night of Year 12, and to celebrate Lucy and her friends Jazz and Daisy are staying out all night, looking for adventure.
It's the last night of year 12, and Ed and his friends Leo and Dylan are killing time before they go rob the media block of the local high school - even if Ed doesn't know why he's doing it if that's the only place he liked of school before he dropped out.
When the two groups collide at Barry's - an "open all night" eatery- the night they planned goes out the window as they embark on an all night adventure to find Shadow - and his sidekick Poet - a graffiti artist Lucy likes; even if she and Ed haven't really gotten along since a fateful date two years before when he ended up with a broken nose.
Little does she know that Shadow might be closer than she thinks. Being an artist herself, Lucy should realize that not everything is as it seems...
Second Glance: Told by both Lucy and Ed - with a few poems by Leo thrown in - Graffiti Moon was a surprising read. The book itself is rather short but I thought it was the right length to tell this story.
The writing is absolutely beautiful, pulling you into this one night in October in the middle of Melbourne (I think it's Melbourne), with this people looking for the things that are in front of them all along.
I liked Leo and Jazz, who were dancing around each other all night, deciding if they were worth it. I loved Dylan and Daisy, arguing like and old married couple trying to decide if they were over or not - they were great for comic relief.
Ed and Lucy were more complicated as they had to make their way through the preconceived notions they had about each other, to finally see who they really are.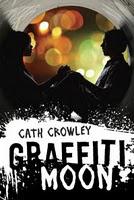 US cover
I loved the story itself, and the writing kept me pulled in tight, but I had a small problem with the pace of the book. Maybe because it's so short -about 260 pages - or because it happens in one night, but I was expecting a quicker, maybe even more frantic pace. Instead everything is a bit mellow.
Bottom Line:All in all, I thought Graffiti Moon was a great read. It has a lovely urban, contemporary feel to it. It's not exactly a happy story but it ends in a very hopeful note, which I loved. Graffiti Moon with be released on February 14th, 2012 in the US. It's already out in Australia.
Favorite Quote:  "Your idea of romance requires a corset and a time machine. Loosen up for once." - Jazz
"... but I guess love's kind of like a marshmallow in a microwave, on high. After it explodes it's still a marshmallow. But, you know, it's a complicated marshmallow." -Lucy-