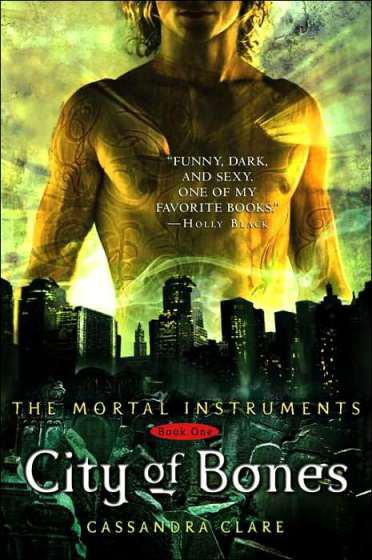 Title: City of Bones
Author: Cassandra Clare
Series: The Mortal Instruments (book 1)
Publisher: Margaret K. McElderry Books
Publish Date: 3/27/2007
Genre: YA Urban Fantasy
Pages: 496
Source: Local Indie Bookstore
Buy the Book: City of Bones

Description: When fifteen-year-old Clary Fray heads out to the Pandemonium Club in New York City, she hardly expects to witness a murder — much less a murder committed by three teenagers covered with strange tattoos and brandishing bizarre weapons. Then the body disappears into thin air. It's hard to call the police when the murderers are invisible to everyone else and when there is nothing — not even a smear of blood — to show that a boy has died. Or was he a boy?
This is Clary's first meeting with the Shadowhunters, warriors dedicated to ridding the earth of demons. It's also her first encounter with Jace, a Shadowhunter who looks a little like an angel and acts a lot like a jerk. Within twenty-four hours Clary is pulled into Jace's world with a vengeance, when her mother disappears and Clary herself is attacked by a demon. But why would demons be interested in ordinary mundanes like Clary and her mother? And how did Clary suddenly get the Sight? The Shadowhunters would like to know. . . .
Exotic and gritty, exhilarating and utterly gripping, Cassandra Clare's ferociously entertaining fantasy takes readers on a wild ride that they will never want to end. (via Goodreads)
Shaunta's Review: I found this book at a local used book store and bought it because I'd seen the title around, and heard a lot about it, and the cover is pretty cool–I read it without doing any research about the book or the author.
So, I'm reading, and I'm reading. And I'm reading (500 pages!) and the writing is good. The story is interesting. There is a comfy sort of familiarity, because I keep thinking about other favorite stories. There are wand like tools, and a protective werewolf, and a castle-like hidden institution. And characters with strange but endearing names. Birds that deliver messages, and the main character finds out that not only is she special–she's the MOST special. So Harry Potter-like.
Then at the end there is a really strong, and slightly weird, Star Wars vibe. It's made stronger by a character playing a lead roll in that scene whose name is Luke and a Darth Vader like ultra-bad Bad Guy. Capital B, capital G.
So all these familiarities combined to give me a book that was easy to read and felt comfortable–but left me wondering at the end how original it really was. I did a little research after I was done, and found out that the author started by writing fan fiction, including some Harry Potter fan fiction that was similar to City of Bones. There's a whole magic system that is sort of original, and sort of very Harry Potter-like. The writing is nice. The dialog flows. The relationships were developed, other than the fact that I don't think the author went far enough in convincing me that Clary really was special enough to inspire either love, hate, or jealousy in every single other character in the book.
Clary is a strong character who didn't have any of the TSTL vibe that drove me crazy in the last big Urban Fantasy series book I read, Hush, Hush, by Becca Fitzpatrick. She's a little young to be running around New York City unsupervised, but that's on the adults in her life. The romance wasn't over the top, she didn't depend on anyone to save her (although it happened sometimes, which was okay), and when push came to shove she stood up for herself.
So, the weird familiarities, the strong characters, the good writing–they combined for me into a book that I enjoyed reading. I admit to liking spending time a world that felt comfortable to me. I was entertained through the whole story, but I wish that I didn't have this nagging feeling that I was entertained by stories that borrowed too much from stories that are already my favorites. I'll be reading the next book, when I come across a copy. I hope that the author grows into her story, and that the next installments are less familiar and more surprising and original.