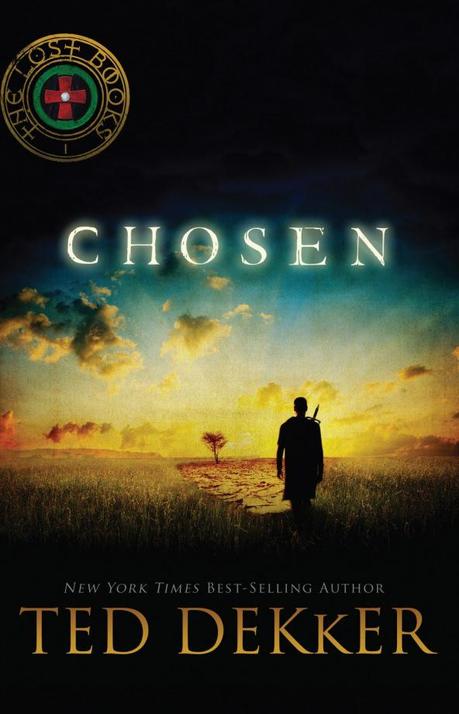 Title: Chosen
Author: Ted Dekker
Series: The Lost Books
Publisher: Thomas Nelson
Publish Date: 01/01/08
Genre: YA Dystopian
Pages: 288
Source: Thrift Store
Buy the Book:Chosen
Synopsis:Think with your heart and prepare to die . . . for you have been Chosen.
Thomas Hunter, supreme commander of the Forest Guard, has seen a great evil decimate much of his beautiful world. With a dwindling army and an epic threat, Thomas is forced to supplement his fighters with new recruits ages 16 and 17. From thousands, four will be chosen to lead a special mission.
Unknown to Thomas, the chosen four are redirected to a different endgame. They must find the seven lost Books of History before the Dark One. For these seven books have immense power over the past, present, and future, controlling not only the destiny of their world. (via Goodreads)
Shaunta's Review: I came across Chosen last week at a local thrift store. I'd heard good things about Ted Dekker, and his series, plus, you know, I love a good dystopian story. I was really excited to read it.
I didn't realize until I got home and looked at the publisher that this book was written from a Christian perspective. While I don't usually seek out religious books to read, I've enjoyed books written from all kinds of perspectives, so I came into this one with an open mind. Especially when I read a couple of reviews that compared the Christian aspect in it to the Christian aspect in The Chronicles of Narnia, which is one of my favorite series of all time.
The first two thirds of this book was crazy good. The story is compelling. The characters are interesting. The writing is strong. I was even was okay with the introduction of the cute little fuzzy white bats, which seemed out of place in an otherwise pretty dark story.
And then, I'm sad to say, that the whole things started to fall apart for me a little bit. The bad guys were spindly black bats and a horde of diseased humans who only needed to was their illness away in special blessed water. If the heroes weren't bathed in the water daily, they risked becoming diseased as well.
I guess, the problem for me with a story told from a strongly religious perspective is that it can become very binary. Good and bad becomes — literally in this book — black and white. When you lose the gray tones in a story, it's not really a good thing. At least, not for me.
The religion in the book, which is not called Christianity, is a religion based on love. I actually really liked that. It's pretty rare for an author to develop a religion in a book, and it's interesting to me when it happens. The Parable of the Sower by Octavia Butler is one of my favorite books and the development of a religion is the basis of it. Unfortunately, the love is strongest between a man and a woman (followed by the love between parents and children), which assumes I guess that everyone in this society is straight. I think a little bit wider of a view there would have made for a stronger story.
Overall, this is a strong story and it's well written. It has no 1 or 2 star reviews on Amazon, and for good reason. But, it borders, for me, on glorifying Christianity too much. A little lighter hand with that part would have been better. I'm not sure I'll run right out and buy the next book in the series, but if I came across it or the first book in the adult series that came before it, I'd be hard pressed to pass it up. I just wish that Dekker had more of C.S. Lewis's subtlety with the Christian perspective.