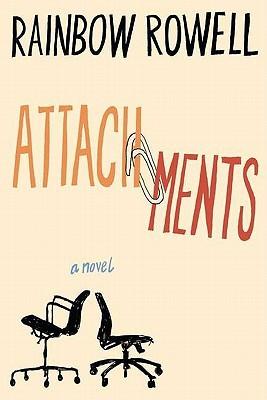 Attachments
By Rainbow Rowell
 April 14, 2011 By Dutton Adult
323 Pages
Hardback
Library
Cover Love: Adorable cover, it's sweet and that's just it. Sweet and it draws you in. 
Summary: 
"Hi, I'm the guy who reads your e-mail, and also, I love you . . . "
Beth Fremont and Jennifer Scribner-Snyder know that somebody is monitoring their work e-mail. (Everybody in the newsroom knows. It's company policy.) But they can't quite bring themselves to take it seriously. They go on sending each other endless and endlessly hilarious e-mails, discussing every aspect of their personal lives.
Meanwhile, Lincoln O'Neill can't believe this is his job now- reading other people's e-mail. When he applied to be "internet security officer," he pictured himself building firewalls and crushing hackers- not writing up a report every time a sports reporter forwards a dirty joke.
When Lincoln comes across Beth's and Jennifer's messages, he knows he should turn them in. But he can't help being entertained-and captivated-by their stories.
By the time Lincoln realizes he's falling for Beth, it's way too late to introduce himself.
What would he say . . . ?
My Thoughts: 
This book made me laugh, then cry, then I wanted to throw it, but you know I have to pick it back up to finish it because this book was that good. This book was like a romantic comedy put into a book, I could picture Lincoln and Beth and Justin and Dena and all these misadventures. These characters were charming and witty and just overrall, real. I could see these people being my friends.It was believable and light-hearted, which was a good move. 
I especially love that it is told through Lincoln's eyes. He's shy, sweet and I swooned over him every page. I loved that how we read the emails from Beth and Jennifer, you felt what he felt. Hell, I fell in love with Beth, too. I've been on an adult binge lately and this book satisfied it a lot. 
This book was good, this book was my crack for the past few days and I loved it, you'll fall in love with love after reading this book. Its not just the love have for your special someone, its the love for your family,your friends. It's love in general. 
And I love you, Rainbow, for this book.