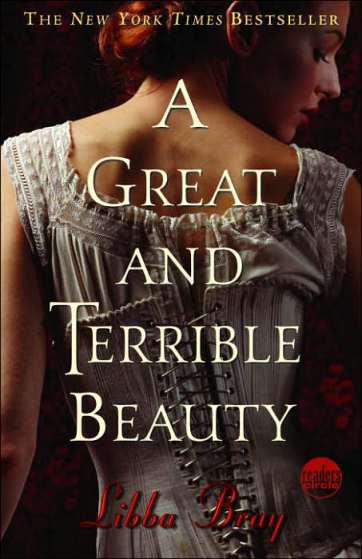 Title: A Great and Terrible Beauty
Author: Libba Bray
Series: The Gemma Doyle Trilogy
Publisher: Ember
Publish Date: 3/22/2005
Genre: YA Historical Romance
Pages: 423
Source: Used Bookstore
Buy the Book: A Great and Terrible Beauty


SUMMARY: Sixteen-year-old Gemma has had an unconventional upbringing in India, until the day she foresees her mother's death in a black, swirling vision that turns out to be true. Sent back to England, she is enrolled at Spence, a girls' academy with a mysterious burned-out East Wing. There Gemma is snubbed by powerful Felicity, beautiful Pippa, and even her own dumpy roommate Ann, until she blackmails herself and Ann into the treacherous clique. Gemma is distressed to find that she has been followed from India by Kartik, a beautiful young man who warns her to fight off the visions. Nevertheless, they continue, and one night she is led by a child-spirit to find a diary that reveals the secrets of a mystical Order. The clique soon finds a way to accompany Gemma to the other-world realms of her visions "for a bit of fun" and to taste the power they will never have as Victorian wives, but they discover that the delights of the realms are overwhelmed by a menace they cannot control. Gemma is left with the knowledge that her role as the link between worlds leaves her with a mission to seek out the "others" and rebuild the Order. A Great and Terrible Beauty is an impressive first book in what should prove to be a fascinating trilogy. (Via Goodreads)
SHAUNTA'S REVIEW: Libba Bray's A Great and Terrible Beauty is a wonderful, lush book full of awesome. I enjoyed it completely, from the beginning, set in hot and spicy India to the end, in misty cool Victorian England. Not to mention a rich magical world in between. I think everyone knows by now, my favorite kind of book is the kind where the setting makes me feel like the author has really taken me somewhere, and this book did that in spades.
A Great and Terrible Beauty is three parts historical romance and one part killer Gothic horror. It's got a big scary English boarding school, caves full of mysticism and gypsies, and colonial India. It also has the same kind of girls that are still around in 2012. Mean girls. Bray does a good job of making even the meanest of the mean queen bees human. No one is all bad. No one is all good, including the protagonist and her poor put-upon roomie. Bray also did a great job with the love stuff. Gemma's love interest is just inappropriate enough for her, as hot as he can be, imperfect, and their romance was just enough in this book to draw me into the next.
This wasn't a perfect book. The relationship between Gemma and her mother didn't feel quite right to me, and the twist regarding the mother at the end felt a little out of left field to me. But over all, this was a spectacular read. I almost never buy more than the first book in a series until after I've read that one and I'm sure I want to go on. I found all three of the Gemma Doyle books at our favorite indie store and bought them because I'd heard such amazing things about Libba Bray. I can't tell you how happy I am that I did.