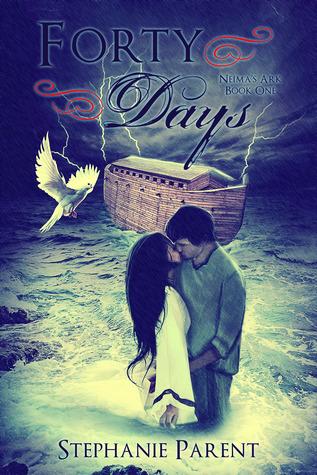 Genre: YA Historical Fiction & Romance
Published: February 12, 2013
Series: #1 (Neima's Ark)
Length: -
"The entire village knows Neima's grandfather is a madman. For years the old man has prophesied that a great flood is coming, a flood disastrous enough to blot out the entire earth. He's even built an enormous ark that he claims will allow his family to survive the deluge. But no one believes the ravings of a lunatic…
…until the rain starts. And doesn't stop. Soon sixteen-year-old Neima finds her entire world transformed, her life and those of the people she loves in peril. Trapped on the ark with her grandfather Noah, the rest of her family, and a noisy, filthy, and hungry assortment of wild animals, will Neima find a way to survive?
With lions, tigers, and bears oh my, elephants and flamingos too, along with rivalries and betrayals, a mysterious stowaway, and perhaps even an unexpected romance, FORTY DAYS is not your grandfather's Noah's Ark story.
FORTY DAYS is approximately 45000 words, the length of a shorter novel, and is the first installment in a two-part epic story. It does contain a cliffhanger ending.
Readers looking for a traditional, religiously oriented version of the Noah's Ark story should be warned that FORTY DAYS may not appeal to them. The novel will, however, appeal to lovers of apocalyptic fiction, historical fiction, and romance, as well as anyone who's ever dreamed of having a baby elephant as a pet."

A crash comes out of nowhere, a sound not of water but of something solid rending, splitting, falling, followed by shill screaming.  I run to the door without thinking and the water hits me like a wall, blinding me, pushing me back.  It takes all my strength to force my way outside, where, eyes narrowed, I make out children bracing themselves, hands on knees, some down on all fours in the now-slippery earth.  The rains can be ferocious, yes, especially when they first arrive…but have they ever been like this before?  Not in my lifetime, I don't think.
I struggle forward till I can just glimpse the cause of that solid crash, blurred through a curtain of rain: a cottage has crumbled to the ground, its roof split down the middle, its foundation collapsed under the weight of the roof and the water.  My throat tightens: that is—or was—Hannah's dwelling.  As a widow with no sons, Hannah had no one to shore up her cottage before the rainy season.  How many years have passed since anyone's even offered to patch her roof?
I look for Hannah herself, knowing Mother would want me to offer her shelter, but I can't see past the crowd of taller villagers quickly forming around her cottage.  Someone will take care of her, at least.
Another crash rings out over the rain, the sound reverberating down to my bones, and before my eyes the roof of another cottage slides forward, over the still-standing walls and all the way down to the ground, as easily as mud sliding down a hillside.  And this is Emir's house.  I saw him repairing his roof just a day or two ago.
I'm trapped in place, suddenly, my body turned solid as stone in my bewilderment and fear, even as the world is tearing to pieces before me and the rain seems determined to knock me onto my knees.  And then, through the swirl of wind and water, a single word rises, a harsh, cutting word, repeating and gathering strength like a chant:
"Curse.  Curse.  Curse.  Curse.  The ark has brought this curse upon us."

INTERNATIONAL | EBOOK COPY OF FORTY DAYS | Please read the TERMS & CONDITIONS for rules
ENTER THE GIVEAWAY HERE (RAFFLECOPTER)