In my last update, I believe the pair of book boxes I was making were edging close to completion (or, at least, the finishing stage). That was over two-months ago and, even though I've since effectively closed the door on that workshop for the time being, I can tell you that I worked on three separate (and a-little-bit-secret) items during the closing weeks.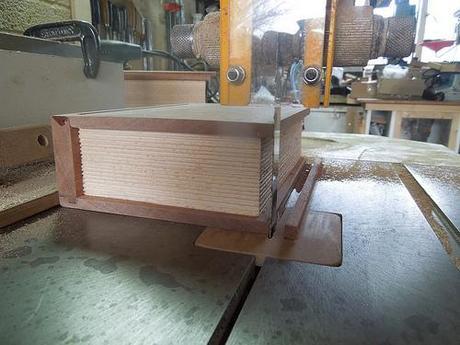 Today's update concludes the book box project for the time being.
As far as I can recall, my next step would've involved a stop at the bandsaw to remove the bulk of the overhang from the book's cover (which you can see above).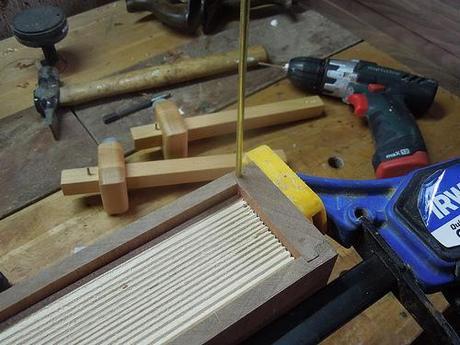 You can see how well the page-effect came out – I was very impressed. I then decided to drill small holes (3mm diameter) in each end so that the lid could pivot and swing open. Of course, it was easier to do this with everything clamped tightly together – although – would then needed to round-over some of the sharp arrises to provide clearance, before final assembly.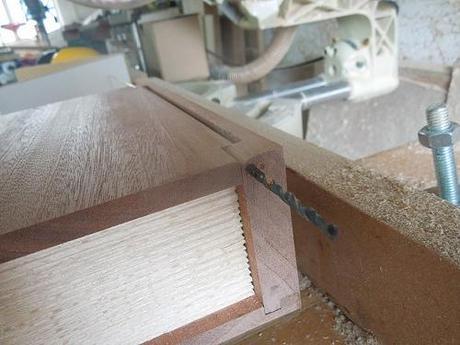 So, I had a brass bar in one end and a 3mm drill bit in the other to simulate the action. Looking back, I'm not convinced that I put the holes in the correct place but, at the time, it seemed to work well…
…I thought it was going well but I've since bought it home, after gluing the brass bar in (to the outer holes only) with some epoxy resin… And I've found that, on both of these boxes, I have a problem with splitting on these pivot joints.
On one, I've tried to re-glue it but it's almost certainly failed. With the other, the crack is less severe but it causes physical interference as you try to open it. I noticed upon re-watching Steve's video [why did I only do this afterwards?!] that he used tiny wooden dowels. I'm not sure whether or not that would've helped me but at least I could've drilled them out quite easily… That brass will not budge!
I did also notice, on the evening after the glue-in, that I'd assembled both boxes with the lids upside-down – so, each of the pre-sanded faces was facing upwards and the one that still needed a fair sanding was much harder to get at! That could also have accounted for some alignment issues, as I drilled all holes by hand and eye only.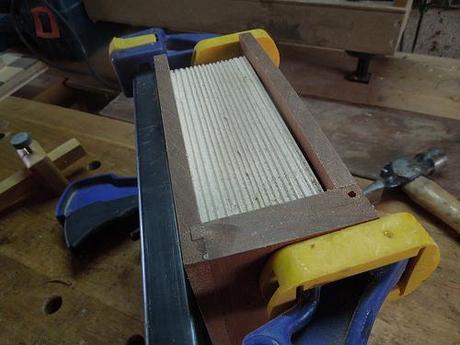 Oh, well… At least the pages look good!! ;-)
Thanks for reading. I haven't decided exactly what I'm going to do with these next but I suppose recording some evidence of the damage would make for a good start.