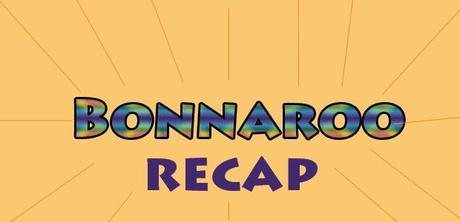 Bonnaroo has come and gone once again, but for those of us who were on the farm, our heads are still spinning from the overcharged weekend of sun, sweaty dance crowds, stage-hopping and all the other usual festival shenanigans. As a first-year Bonnaroovian, I must say I was slightly overwhelmed by just how big and how hot it was, but had a great time hopping around the fairgrounds buffet-style, enjoying the chance to bounce from Neutral Milk Hotel to Phoenix to Kanye to Disclosure in the span of just a few hours. The truly committed festival guests were up early each day to catch the up-and-coming talent on the smaller stages, some of whom turned out to be my favorite acts of the weekend.
The Setup: The vast, green fields of Bonnaroo are marked by landmarks such as the ferris wheel, the Fountain, the glittering arch, and surrounding stages notoriously titled Which, What, This, That, and Other — the confusion of navigation serving as an equally important part of that free-spirited Bonnaroovian vibe. While the crowds at any given stage were always large enough to take a gander at the entire Bonnaroo City's population, the only way to truly get a sense of how many other citizens were present was to ride the ferris wheel and look at the camping area surrounding Centeroo—a breathtaking view of the thousands of tents divided by gigantic balloons marking each neighborhood, or "pod.
Weather: Even for a heat-sensitive Yankee like myself, I recognized the mildness of the weather for a summer weekend in Tennessee. 85º seems hot until you hear the face-melting horror stories of the 100º weather of Bonnaroo a few years back…I found myself sufficiently tanned (OK fine, a little sunburnt) by the end of the weekend, but don't think I could have handled much hotter, especially given the added body heat within the crowds.
Crowds: This year was the first in many that Bonnaroo did not sell out. It's hard to say why that might be — I've heard conflicting theories, with reasons like it's because it was one of the only festivals not sporting Outkast as a headliner, while others say that there may have been too much rap/electronic acts for a festival that has historically leaned more towards the "hippie tradition," focusing on roots/Americana-influenced veins of rock and pop. Bonnaroo reached its height of attendance in 2012 with 100,000 people, while this year is projected to have been 90,000+. So, while the Superfly Production team may be disappointed in not selling out, 90,000 is still a lot of f***ing people. And you could sense with every offered high five from a stranger, or well-wishing "Happy Bonnaroo!" exclamation on the paths, that everyone there was happy to be there.
Food: I must admit that, knowing Superfly was also the production company behind The Great Googamooga food & music extravaganza in Brooklyn, I had expected a more creative array of food options at Bonnaroo. For the most part, it was the standard fish & chips, Asian fusion, and pizza, with a few local options offering Southern delicacies such as jambalaya, hush puppies, or BBQ. The tastiest options that I found were in the food truck oasis, a feature that has become part of the norm of the festival experience.
Not Your Festival If: You're bothered by enthusiasm. It's pretty obvious that if you don't like heat and you don't like crowds, you are not equipped for a weekend at Bonnaroo, but if you also have an aversion to friendliness, you will want to avoid the communal family vibes of this festival. For most people, this is part of the appeal, but if you can't stand the idea of a stranger coming up to you and sticking their hand in your face (for a high five, naturally), you will definitely not be ready for hundreds of hands in your face throughout this weekend.

Best Green Feature: It's refreshing to see festivals across the board putting in effort to reduce their waste by using compostable products and stationing volunteers at waste stations to direct the guests, and Bonnaroo definitely excelled at this. I was most impressed by the initiative to combat the usual cigarette butt littering; Bonnaroo challenged guests to fill plastic baggies with cigarette butts, which, if you reach 250 or more, you could trade in for either a t shirt, a meal ticket, or various other prizes.
Best In Show: The best act I saw, which blew my socks off both musically and experientially, was easily The Flaming Lips. From 12:30-2am on Saturday night, the Which Stage was transformed into a glistening display of LED light showers, magical inflated mushrooms, a fluorescent rainbow backdrop, 15-foot-tall cheerful balloon monsters and, of course, the mastermind Wayne Coyne himself elevated at center stage, wearing a red unitard under a furry jacket of silver tinsel. Coyne's voice remains impeccable in its delicate charm, delivering the visions of the band's cerebral wonderland with sparkling panache. At the end of the set, just when everyone thought it was over, a familiar piano line crept into the air, ever so quietly drawing the crowd back into the magic for one last song, a cover of The Beatles' "Lucy in the Sky With Diamonds". It started out mystical and serene, but as it built up to the first chorus, the crowd could feel something about to explode, and something did—confetti cannons blasted the audience with thousands of rainbow paper shreds for a final colorful celebration of the set, of Bonnaroo and of being there together (each chorus was greeted the same way). I don't think a single soul left the Flaming Lips set without feeling mesmerized, recharged, and even more enamored of the group than they were before.
Most Supernatural Stage Presence: This group could also win best late night act, as I had to force myself to stay awake for their 2:30am set on Friday night, but it was so worth it to see the weird and wonderful duo Die Antwoord freak the f*** out. These South African rappers go by the bizarre performance aliases Yolandi and Ninja, and bring electrifying, athletic energy to the stage wherever they go. They spit fire bouncing between English and Afrikaans, often delivering their verses so rapidly you can't tell what's what. Yolandi's high-pitched squeals and shrieks often reach inhuman frequencies, like some cathartic sermon from a planet far away. In the midst of the crowd surfing and other stage-front interaction with the audience multiple photographers were kicked in the face, but I have no doubt that even they enjoyed every moment of it.
Performance you have to See to Believe: Many Neutral Milk Hotel fans have been waiting for years to see the full band take the stage together, and the ecstatic anticipation was tangible in the audience at Bonnaroo. Unlike many stages throughout the weekend that attracted wandering Bonnaroovians without prior knowledge of the act, the NMH crowd was certainly not there by accident: they were seeking a culminating experience for all the previous years of fandom. What many of these fans may not have expected (or maybe they did, if they paid attention to preceding concert coverage) is that they would not have a digital souvenir to take home from the experience. Jeff Mangum, a notoriously shy performer, decreed that no photography would be allowed during their set—neither professional nor pedestrian—his reason being that live music should be a communal experience that can only exist in that moment, a now languished notion in our contemporary digital age. It was slightly disappointing to see some fans ignoring his wishes and whipping out their smartphones (at venue shows these fans would have been kicked out, nearly impossible in a festival setting) but for the rest of us, we were left to soak up the transcendent sound of the musical saw, the bellowing horns, and simplicity of Mangum's amplified guitar just with our eyes and ears. There were no stage antics, and Mangum barely said a word. It was a set purely focused on the music, and our memories of this music, its translation to a live performance that we had waited so long to see, and the new memories we created by being present and attentive to the lived experience, not a screen to refer to later on.
Best Superjam: Approaching the Skrillex Superjam on Saturday night, I wasn't exactly sure what I was walking into. The barrage off artists that would shortly be taking the stage didn't seem to fit with the general "Skrillex" aesthetic. What followed, though, was one of the most spontaneous, surprising and exciting sets of the weekend. While the crowd was warmed with some standard dance tunes, they were quickly hit with originals from Mystikal, renditions of "Pump up the Jam" and "Let's Dance" from Warpaint, Janelle Monáe performing hits from Michael Jackson and James Brown and A$AP Ferg taking on Notorious B.I.G.'s "Juicy". And those moments weren't even the highlights. Damian Marley, Thundercat, and Big Gigantic all performed, Matt Shultz from Cage the Elephant and Robby Krieger from THE DOORS absolutely murdered a cover of "Break on Through (To the Other Side)" and Lauryn Hill closed out the night with a short set that ended with The Fugees' "Ready or Not". As each guest entered and exited, the palpable excitement in crowd continued to grow — no one knew the order or tracks that would be performed, so each moment felt unexpectedly brilliant. Special thanks to Sonny Moore, who looked pretty great going lick for lick with Robby Krieger and Lauryn Hill, who restarted "Ready or Not", telling the crowd we needed to give it everything we had — and we did.
Best Cover: Rock 'n roll goddesses Those Darlins wowed their Sunday morning crowd with their electric guitar pizzazz and commanding snarls, but in spite of their tough demeanor, the Darlins always retain a touch of harmonic sweetness. Their music often alludes to themes of 1960s girl groups, which at Bonnaroo was clearly illustrated through their cover of The Crystals' "Then He Kissed Me". The song was dedicated to Nikki Darlin's newly engaged sister and fiancee, and Nikki sang with raw, punky simplicity that beautifully paralleled the roughness of the early production affects of the song's original era. Each Darlin has her own vocal style, her own stage personality, and they trade off the spotlight on every song, but the best moments of their spectacular set were when the two would meet at center stage, facing each other with bent heads and guitars inches apart as they tinkered high up on their fret boards to create a warm blanket of clamorous harmonic conversation.
Performance I Don't Care I Missed: Though Bonnaroo didn't have the hype of an Outkast performance like so many other festivals, they tried to stir excitement by inviting Kanye back after the 2008 Bonnaroo debacle (when Kanye showed up hours late, beginning his set at 4:30am then blaming Pearl Jam for running over their set limit). It must have taken millions of dollars to get Kanye back, but evidently he's still sore about how things went down last time. I had planned on seeing Kanye to see how he would approach his comeback, and to compare his performance to Gov Ball last year and what I've heard about the recent Yeezus tour, but the Bonnaroo time vortex took hold of me and I missed his set, leaving me to piece it together the next day. What I heard from the general public was that it was a relatively unimpressive stage performance, that he ranted about the press (repeatedly yelling "where the press at?!"), and called himself the "number one mother****ing rock star on the planet." For the most part, the general public was turned off by this quintessential Kanye behavior: what I render from the Bonnaroo crowd's reaction is that they aren't interested in the politics of Kanye's career, they were just looking for a good show, and if they wanted to hear his grievances, they would pay the $200 ticket to see Kanye do Kanye in an arena show entirely focused on him.
Best Party Within A Party: Walking around Centeroo, you may have noticed a seemingly out-of-place barn decked with glowing reindeer faces and twinkle lights, the entrance manned by busty babes wielding Santa hats, smacking the asses of curious passing loiterers. This peculiar site was the Snake & Jake's Christmas Club Barn, a marathon DJ-ed party that had no bedtime the entire weekend. The Barn is Bonnaroo's only entirely enclosed, **air-conditioned** music stage, causing it to fill up quickly and often, but most Bonnaroovians who ended up there by chance found themselves hooked to the dance music blasting inside, which, over the four days, included the NOLA inspired High & Mighty Brass Band, a bounce themed party complete with on-stage twerkers, a 90s house rave, and the "Robe Rage," (robes mandatory for admittance) featuring Chromeo as a surprise guest DJ. The entertainment was brought down by Bushwick's famous Roberta's, transplanting the DJ collective Full Service who, across 8 rotating DJs throughout the weekend, programmed sets as eclectic as the Brooklyn nightlife they were repping. Word definitely started to spread about the scene in The Barn, with the lines growing to the hundreds at certain points, but it is still a relatively secret and mysterious place in the world of Bonnaroo.

Arc Iris



Avett Brothers




Cass McCombs


Caveman




Cherub




Chromeo




Classix



Danny Brown



Die Antwoord









Disclosure



Dr. Dog



First Aid Kit





Flaming Lips







Grouplove





Haerts




James Blake


Janelle Monae







Lauryn Hill




Lilly and the Parlor Tricks


MS MR








Phoenix




Phosphorescent



Pusha-T




Skrillex






Thao and the Get Down Stay Down





The Head and the Heart





Ty Segall



Vampire Weekend



Vance Joy


White Denim