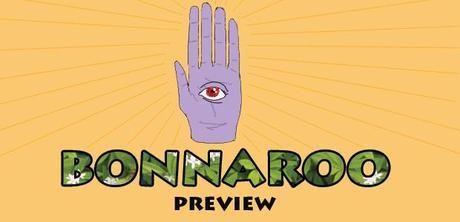 Graphics by Olivia Angst
After the first wave of festival lineups, we all waited with bated breath to see what Bonnaroo would have in store. This will be my first time sojourning to Manchester, TN for The Roo, but over the course of the twelve years that it's been happening, I've heard enough sublime stories to be jumping out of my skin with excitement. Like the rest of the world's best camping festivals, Bonnaroo boasts a plethora of entertainment options in addition to its prolific list of musical artists. This includes some more experimental stages featuring speakers, theater events, belly dancing, the IFC Comedy Stage, an art exhibit tent, the Bonnaroo cinema and DJs that will keep you dancing even after the lights of the main stages go dark.

A-. I know it would have been unoriginal for Outkast to be at Bonnaroo in addition to all the other festivals, but I can't say I'm not slightly disappointed to be missing out. Lucky for us, we'll have Jack White, the prolific Sir Elton John and Kanye (for his Bonnaroo redemption show). The rest of the lineup is an interesting mix of bluegrass, indie rock, dubstep and rap with great names all across the board.

Neutral Milk Hotel
Prior to the release of this lineup, I had sunk down to the point of deep regret and sadness that I missed NMH during their stay in New York. Hallelujah! Neutral Milk Hotel is lauded for being sonically experimental and sporting cryptic lyrics, and the news of their reunion was reason for fans everywhere to rejoice. Several grown male friends of mine wept at their recent shows, and I'm anticipating tears of my own (plus more from other crowd members) at Bonnaroo.
Janelle Monae
Equal parts music and theatrics, Janelle Monae's live sets are entirely electric. Everything from the matching outfits to the choreography of the brass/string musicians is immaculately executed, including her effusive vocal style. She's an artist who I barely listen to when I'm at home, but when she's playing a festival, it's a show I make sure not to miss.
James Blake
If you're skeptical about how James Blake's music will translate to live performance (like I was before I saw him), throw those doubts out the window as far as you can. His use of loop pedals on stage is pure magic. At its core, James Blake's music is him and a keyboard, and even with the different effects and arrangements, you'll still be blown away by his impressive musicianship and songwriting. The elasticity of his voice is even more breathtaking when you see it in person, and to put the cherry on top, James Blake is incredibly humble (and adorable) on stage. I know I fell in love, and you probably will too.
Those Darlins
This local Nashville group is a delightful intersection between retro-girl pop and lo-fi rock 'n' roll. The founding members of the band met at a Southern Girls Rock 'n' Roll Camp, and their sound encompasses elements of southern rock, blues, country and pop. Some songs will be sweet, while some are totally gravelly and raw. They really strike the perfect chord when they bring these opposing forces together.
Little Dragon
When you have artists like Skrillex and The Glitch Mob on the same bill as The Avett Brothers and The Wood Brothers, it might seem like a middle ground will be hard to come by. Little Dragon is amazing because their music is perfect for a dance floor without weighing you down with the extreme qualities of rave culture. Energetic without being outrageous, they put on a great show that will get even the most prude concertgoers moving.
Honorable Mention: Caveman
The only thing preventing me from putting Caveman in the top five is that I've already sung their praises a multitude of times here on the site — simply put, I didn't want to sound like a broken record. Obviously go see Caveman, they're incredible, etc etc.

Vance Joy
Given that Bonnaroo is in Tennessee, many of the smaller names on the bill show some country/folk/bluegrass influences. If you can't handle an entirely grassroots musical experience, there are a handful of up-and-comers, like Melburne's Vance Joy, who strike up the sweetest blend of folk and pop. Boyishly chiming over the pattering of acoustic guitar, his melodies are delightfully simple, overlaid with lyrics that tell the tales of intimate romances.
Typhoon
Large bands are always enticing to me because of the vast amount of possibilities that come with having more members. Once in a while, I'll stumble upon a great one that has a complex sound and texture. This 11 piece band from Oregon lives up to the standard, bending genres moment to moment in each song. Folk, pop, americana, rock — they've got it all. The interplay of group choral harmonies and horn interludes create a full, cinematic effect that's buoyant and ever so charming.
Seasick Steve
By no means is 72-year-old Seasick Steve a fresh artist to the scene, but ever since I stumbled upon him at All Points West in 2009, I've considered him to be one of the best hidden gems of the music industry. Though I could go on and on about his early life as a nomadic hobo traveling through the South, I will keep this simple and say that Seasick Steve is a blues divinity. You'll be enraptured by his slide guitar and gruff voice. His stories are intricately woven into each inflection and nuance of the melodies, and he carries with him a timelessness that's not easy to come by in this day and age.
Thao & The Get Down Stay Down
Thao Nguyen has collaborated with a number of experimental indie champs over the years, including Joanna Newsom, Mirah and tUnE-yArDs. She's been compared to Cat Power, Fiona Apple and Regina Spektor, among other female contemporaries, and she sings with a laid back, hazy tone that can be delicate at one moment and badass the next. It's the kind of versatility that renders an instant girl/music crush.
Cloud Nothings
Cloud Nothings have been around for a few years, relatively under the radar, but I have my fingers crossed that pop punk will have a comeback, and this band helps me keep that dream alive. They can be a little dark at times, but at their finest moments, they'll have you bouncing off the walls.