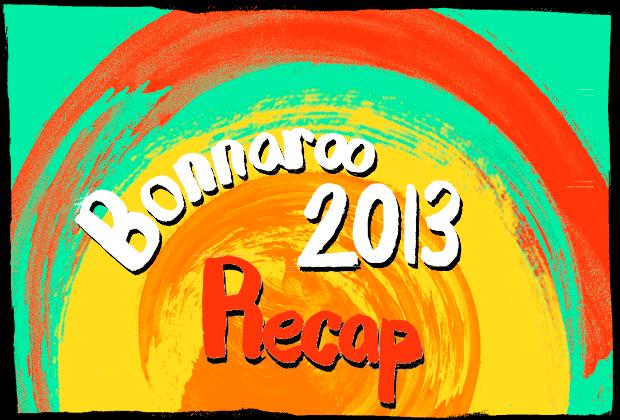 Photos by Alex Pines, Words by Scott Collison
Each year, Bonnaroo transforms a humble farm in Manchester, TN into a venerable city of weird for four days of music, sweat and fun. The twelfth Bonnaroo was no different and saw perhaps the event's most epic lineup yet — Paul McCartney, Tom Petty and the Heartbreakers, Wu-Tang Clan, Bjork and current buzz-masters Haim, Alt-J, and Empire of the Sun. Fans were treated to strong performances from nearly every genre, including a ton of up-and-coming acts. Even the most die-hard music fan may not be able to handle such an epic good time and test of resilience.

The Setup: Most festival goers camp out in a huge tent city, keeping the party going 24/4. The festival grounds consist of two main areas: the main venue for headliners and Centeroo, a semi-permanent village that felt more like Six Flags or Disneyworld than ever before. Centeroo sports a large stage, three music tents (named This, That, and The Other, leading to intoxicated Abbott and Costello-style confusion), cinema and comedy tents, booths hawking hippy wares and environmental causes and a smattering of small stages and corporate-sponsored lounges. The Bonnaroovian vibe comes together with semi-permanent installations of a multi-color Ferris wheel, a centerpiece fountain that doubles as the closest thing most attendees get to a shower and other funky art installations, both official and community-made.
Weather: Hot, but relatively perfect for a week in the South. Days stayed in the high 80′s, while Thursday and Friday night got chilly enough to need a sweatshirt. Most in attendance shivered instead. The Tennessee sun cooks a tent well enough to wake everybody up by 8:00am or so, and nobody got away without a pretty good sunburn.
Crowds: The festival sold out with such a monster lineup, and every space worth visiting was packed all day, every day. Walking around any moderately popular show was like navigating a human minefield, and forget about getting close enough to actually see a performance unless you stake out a spot at least 30 minutes prior. On the upside, everyone's in the same disoriented, exotically-intoxicated, blissed-out mood, making for frequent acts of real kindness.
Food situation: With a campsite close to the festival grounds, it's easy to take a break and cook out with your crew. With a campsite at the opposite end of the farm, two miles away, the festival's huge offering of everything from standard carnival fare to international, hippie and American food is enough to keep you going for epic seventeen-hour days of fun. A food truck oasis featuring regional vendors proved popular in its second year at the 'Roo.
Not your festival if: You can't deal with hippies, moderate nudity, hot days or a go-with-the-flow attitude. Bonnaroo is an amazing weekend, but it's definitely not for the faint of heart. If you go, go ready to experience some crazy things – it's part of the fun!

Best all-around show: One of Iceland's top exports, Bjork, blew apart a surprisingly sparse crowd at the main stage on Saturday evening. Her performance carried the audience through the cosmos and included 3-D rendered, hyper-vivid animations on the main stage's three giant monitors. Each synced perfectly with the lyrics and transcendent beats, including volcanic activity during mentions of eruption in "Mutual Core" and squirmy things wiggling into nooks of the sea during "Hidden Place". A choir of about twenty women dressed in neo-Greek metallic tunics danced and sang soaring harmonies behind the tinsel-wrapped Icelandic goddess. Her DJ also deserves honors for mixing and multi-instrumentalism, including a long solo on a pair of Swiss-made Hangs.
Most nostalgic performance: I'd be remiss not to mention Paul McCartney's headlining show on Friday. Spending time in the company of one the world's most recognizable people and best performers wasn't quite life-changing, but it certainly inspired awe. The main stage was packed to capacity, and everyone knew the majority of the lyrics. Visuals with old photographs of Paul and clips from The Beatles' films were nostalgic behind the man himself — overall, the performance was worth a trip down our culture's collective memory lane.
Most audacious, yet justified, claim: Earlier on Friday, Wu-Tang Clan reunited to take a packed crowd back to the '90s and real hip-hop. Let's be honest, Wu made albums that haven't yet been topped. The crowd was enormous and excited, even though the crew performed with only a DJ and ran straightforward through old material. RZA and GZA were also slated for the evening's superjam alongside Solange and Lettuce, but all the other MCs joined in. That made for a party much more engaging than the scheduled set.
Best Beatles/McCartney cover: Almost every band on Saturday covered a Beatles song, nodding to the previous evening's headlining show. That would feel trite if the songs weren't so pop-perfect and deep in our blood. Portugal. the Man's rendition of "Helter Skelter" was the most-original, least-cute Beatles cover of the day.
Cleverest banter: J Tillman as Father John Misty earned this one for quipping often about the strangeness of the whole idea of such a huge festival and taking a subtle dig at the celebration of "zeitgeisty internet music" (more than half his audience left early for Alt-J's packed-out show).
Best impromptu collaboration: Irish singer-songwriter Glen Hansard noticed an American Sign Language interpreter about halfway through his set and asked, "Are you signing everything I say? That's f***ing beautiful… F***! F***! …!" We all learned the sign for the last when he brought her up on stage: extend one index finger, and with the other hand stroke it as if your fingers were a jellyfish. Hansard's songs about love kept the interpreter and her relief swaying and signing, which truly is beautiful. Also beautiful was Hansard's enormous ensemble, which included two fiddles, full horns, an organ and Hansard's busking-tested strumming. All this was perfectly used for a closing sing-along of the Irish traditional "The Auld Canal", which brought a packed crowd together for a moment of true community.
Most under-appreciated legend: Jazz-fusion legend John McLaughlin drew a relatively minuscule crowd for his first performance at Bonnaroo on Saturday afternoon. Jam bands are in Bonnaroo's blood, but perhaps jam bands are just wannabe jazz musicians who couldn't hold a candle to McLaughlin's virtuosic guitar work. The performance rounded out the lineup's trip through music history, and, at 71, McLaughlin again proved that he's one of the best guitarists who has ever lived. Also, watching hippies trying to dance or air drum to a polyrhythmic jam like the classic "Peace, Love, and Understanding" was a crowd-watching highlight.
Best act on a small stage: Brooklyn's own Lucius played the small Miller Lite New Music Lounge on Saturday afternoon but should have had a tent show of their own. The band's striking aesthetic perfectly complimented an hour of exquisite harmonies. Their closing, a barbershop-flavored take on McCartney's "Goodbye", would break your heart.
Best meal at Bonnaroo: An American road trip adventure to the South isn't complete without a bit of real, slow-cooked barbecue. Fatback Collective, a collaboration of pit masters from all across the South, slung first-rate BBQ all over the festival. A lunch of pulled-pork with just a touch of sauce and pickles on a kaiser roll destroyed the spot and kept me fueled for the whole afternoon.
Top audience fail: During Local Natives' jam-packed, Friday afternoon set, some undoubtedly college-aged fans held aloft a yellow hunk of plastic spray-painted with "BOOT AND RALLY". Drinking is fun and all, but this sort of bro-ed out, less interested in music than getting messep up vibe permeated the weekend in a pretty toxic way. Getting weird is cool, getting hauled out of the crowd by medics not so much.

Festival








Haim






Django Django





Alt-J





Local Natives






Milo Greene






Wilco




Jim James








Matrimony









Lord Huron







Lucius





Beach House





Rock N' Soul Superjam
Michael Winslow performs the National Anthem with instrumental sounds from his mouth before Saturday's Rock N' Soul Superjam on This Stage.

Jim James, Carl Broemel performs at Saturday's Rock N' Soul Dance Party Superjam.




John Oates, Zigaboo Modeliste, Bilal at Saturday's Rock N' Soul Dance Party Superjam.


Empire of the Sun