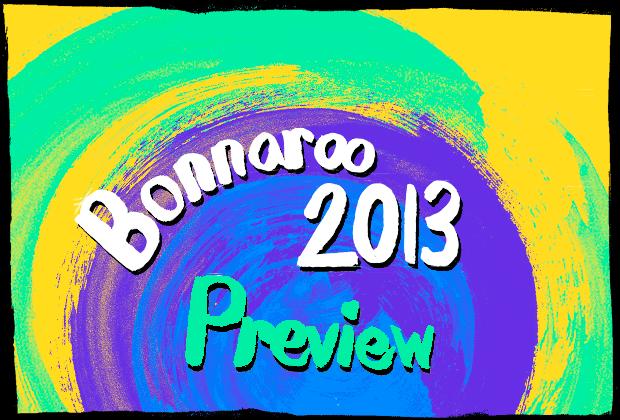 Bonnaroo is back, converging another hefty lineup of favorites from all over the globe onto Manchester, TN. While there'll be plenty of electricity emitted from the main artist stages, you can also expect sensory overload from activities all over the festival, including an IFC sponsored comedy theater, a headphone-based "Silent Disco" and a memorabilia auction. Back to the main stages, though. The lineup has some pretty sick contenders, and we've pooled a tight list of must-sees for the occasion.

While the festival will be hosting a good deal of indie rock bands, the headliners this year will be old favorites Paul McCartney and Tom Petty & the Heartbreakers along with anthemic folksters Mumford and Sons.

B: While there are plenty of great artists featured at this year's Bonnaroo, having Macca and Petty man the decks for run-throughs of their greatest hits definitely puts the festival behind 2013's Coachella, which featured daring and excellent headline choices. That being said, there are plenty of great bands to really sink your teeth into this year.

Wu-Tang Clan
Friday 11:30pm @ Which Stage
Despite GZA saying, "we haven't been on the same page in years," regarding his relationship with the group, Wu-Tang lives on, now a full 20 years since 36 Chambers first sliced through our notions of what hip-hop could achieve. A Better Tomorrow, their sixth and likely last album, is scheduled to come out this summer, and their upcoming Bonnaroo performance will be a celebration of all things Wu. Be sure you catch them before they pack it in for good.
Japandroids
Thursday 10:00pm @ This Tent
Having spent years playing shows and releasing two EPs, Japandroids weren't making much headway even on their home turf of Vancouver. Recording the album Post Nothing as more of a keepsake than a next chapter, their young hearts sparked fire and exploded onto their second album Celebration Rock, an instant classic which will surely go down as one of this decade's best rock records. The duo carries a lot of weight with just a guitar and drums, delivering song after song of glass-raising anthems. Anyone doubting the soul-cleansing power of rock needs to check out their set.
R. Kelly
Saturday 11:30pm @ Which Stage
This one pretty much goes without saying. The ultimate showman, R. Kelly is a master of super-sized audiences and is bound to be the most commanding performer at the festival this year. While his soulful Write Me Back album is still fresh, he intends to drop Black Panties later in 2013, keeping up his record-a-year pace, a vigorousness that carries over into his live show (even when he's kicking out a rowdy fan). Grab a Coke-and-Rum and get over to his stage Saturday night.
Swans
Sunday 5:00pm @ This Tent
Having risen from the depths of New York's No Wave scene, Swans petered out in the late-90s, only to return this decade with their best work yet, The Seer. That record's sprawling numbers will make for some completely entrancing live shows, which will be enhanced largely by the mammoth festival amplification. Definitely not for the fainthearted, Swans' shows are intense, brutal and amazing.
Alt J
Thursday 11:30pm @ This Tent
Of all the art-folk acts making appearances at Bonnaroo, Alt-J is one of the most fresh-faced and arguably the best. Their debut album, An Awesome Wave, won the quartet a Mercury Prize, and a peak at their live show is all you need to understand why.
Bonus Pick: Death Grips
Saturday 2:15pm @ The Other Tent
2012 was a whirlwind year for this California thrash/rap group — they somehow released their searing debut album The Money Store on a major label (Epic), then quickly disemboweled that contract by releasing a free follow-up months later with an erect penis on the cover. Now free agents, Death Grips are as unstable as ever, putting on shows that feel completely unpredictable. While a backing track keeps the group tuned to a precise time, the unsettling quality comes from drummer Zach Hill's feverish pounding along while frontman Stefan Burnett spews venomous paranoia upon a typically manic audience.

White Lung
Sunday 7:45pm @ Cafe Where?
Although these Vancouver punks have been putting out records since 2007, their climb has been slow and steady. Their sophomore album, Sorry, was released in the fall of 2012 and represents a giant leap forward — despite being only 19 minutes in length. White Lung are fiery, impassioned and absolutely need to be seen live.
Ex-Cops
Friday 8:00pm @ New Music on Tap Lounge
While finding indie bands influenced by The Jesus and Mary Chain is no sweat these days, Ex-Cops still manage to find new ground while borrowing the band's cool and laid back delivery. Their songs are sweet and crispy, featuring jangly guitars and smokey atmospheres that will sound great for the "chill-out" portion of your next house party playlist. Check out the band's set and their refreshing debut True Hallucinations.
Charli XCX
Friday 2:15pm @ The Other Tent
While Robyn toils away at the follow-up to Body Talk, Charli XCX has thankfully stepped up as the latest alt-pop queen, creating hits for indie kids who want to dance. Charli's True Romance was a long time coming, dropping two years after she initially piqued interest with her gothy "Stay Away" single. Now it's here, though, finally allowing her to make a name for herself beyond her writing credits (Charli penned the Icona Pop earworm "I Love It" along with many other songs for other artists). With a Robert Smith croon and engulfing darkwave synths, Charli is currently providing an excellent alternative to bubblegum pop.
Purity Ring
Thursday 9:15pm @ The Other Tent
After The Knife released Silent Shout in 2006, the years that followed slowly unveiled a new wave of goth-tinged synth artists. Possibly the most interesting of the bunch is Canadian duo Purity Ring, whose 2012 debut, Shrines, was one of last year's most inventive records. Corin Roddick's fevered synths underneath Megan James' doe-eyed and spooky vocals continues to perk ears, and watching them execute the whole show live can be truly breathtaking, even if you're not sure how it all works.
Lucius
Sunday 1:45pm @ Sonic Stage
Fronted by the duel vocals of Jess Wolfe and Holly Laessig, Lucius marries astounding melodies and rootsy instrumentation, creating a sound that's bound to be a favorite at this year's festival. Grab a drink and a grassy knoll, and check them out Sunday afternoon at the Sonic stage.
Bonus: Tiny Victories
Many artists know their way around looping stations and synth pads, but not quite like Tiny Victories. Their songs sprout from clicks and blips, but quickly blossom into beautiful pocket symphonies. The Those of Us Still Alive EP is out now, but with any luck, this duo will releasing a full-length some time this year. In the mean time, make sure to give them a listen on Saturday afternoon.
Saturday 3:45pm @ Cafe Where?
Bonus: On and On
Thursday 5:30pm @ Solar Stage
Rising from the ashes of Scattered Trees, the band's remaining members made a record with Broken Social Scene producer Dave Newfield and came out smelling like a rose. The record that surfaced, Give In, is a slab of percussive dream pop filled with sky-high hopes and ambitions.