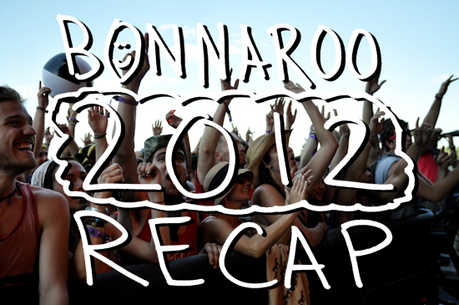 Photo credit: Lexi Namer
After more than a decade of uniting fans of all backgrounds, Bonnaroo sometimes feels less like a music festival and more like a vibrant, thriving city of 80,000 that only springs to life for one weekend every year. The consistently excellent lineups  (headlining this year: Phish, Red Hot Chili Peppers, Radiohead, The Beach Boys, Bon Iver, Avett Brothers, and The Shins) are always a major draw, but what keeps people coming back is the overwhelming sense of community and positivity that is unmatched among other festivals around the country. In the seclusion of the forests and farmland of Manchester, TN, attendees are always greeted by old familiar landmarks and festival traditions that brought everyone together originally. Bonnaroo derives its name from the New Orleans slang for "a really good time," and that's exactly what it guarantees. Bigger, better, and crazier than ever, this year's festival has given its Bonnaroovians enough music and memories to keep the spirit alive for a long time. Or at least until next year.
The festival grounds are split into two main areas: the What Stage and Centeroo. Located behind the iconic arch through which attendees enter, the What Stage is a giant barn-like structure for headliners with a neon green Bonnaroo sign. The massive field surrounding the stage is capable of holding almost everyone, and the sea of people during a big show is quite a sight to behold. Impressive though it may be, most of the madness occurs in Centeroo, which holds everything else, including the other four main stages that form a perimeter: Which, This, That and The Other.
As if that wasn't enough, there are many more smaller stages, a comedy theater and a cinema tent (both air conditioned), a Big Ass Water Slide, a mushroom water fountain and mini water park to keep cool, a gourmet food truck oasis, a beer festival, merchants peddling all kinds of wares, and Planet Roo, featuring non-profits with a focus on global consciousness. It's very difficult to be bored at Bonnaroo, in fact, with the quality of the other attractions stacked against the barrage of bands, it's become increasingly difficult to even decide what to do.
It's still the same old Bonnaroo, though. The illuminated ferris wheel and clock tower still serve as a beacon to distant campers ambling toward the music at all times of day, the giant goofy bobbleheads in Centeroo still stand proudly, reminding everyone to take life a little less seriously, and the graffiti-friendly fence along the border to the main grounds still serves as a sounding board for artists and smartasses (this year, a large, psychadelic smiling sun shared space with a Ron Swanson stencil, among other creative tags). Every car is provided with trash and recycling bags, every attendee is given a full color 80-page booklet with festival information and a fold-out map and schedule, and the Bonnaroo Beacon still presses daily newspapers full of interviews, photos and recaps of the previous day's happenings.
The festival's idea of change is more additive-based than anything. This year, the cinema tent was no mere display of old favorites as in the past; its lineup would be formidable even as a standalone event. tUnE-yArDs, Reggie Watts, and MTO provided live scores to some films, while Charles Bradley and Alice Cooper introduced others. Various actors and directors participated in Q&A sessions for their projects, some of which were limited releases or advance screenings. Elsewhere, extra shade, water stations and lush grass pampered veterans used to the scorching sun and clouds of dust in years past. Hilariously, the crowds were notified of these and other changes through video PSAs delivered by stage screens from new festival "director" Janson Skivvy (played by Rhys Darby of Flight of the Conchords).
CLICK HERE FOR ALL OF OUR PHOTOS FROM BONNAROO 2012
All of this, however, would be pointless without the music. And so, without further ado, the highlights of Bonnaroo 2012:

Number of attendees: 80,000. Make no mistake, this is a rather large camping festival. So large that Thom Yorke remarked on its similarity to the legendary European festivals such as Glastonbury. As far as Bonnaroo goes, however, it simply means the more the merrier. Crowds flow smoothly throughout the festival and camping grounds, and sanitation is remarkably clean for the size.
Weather: Hot, though this year was relatively mild, with refreshingly cool evenings and a gloriously overcast Sunday with a sprinkle of rain. Years past have been brutal, kicking up clouds of dust and baking people out of their tents before 8am despite precipitation. Sun protection and Camelbacks are an absolute must.
Food options: A smorgasbord. Festival fried classics stand alongside greek, chinese, vegan, cajun (gator is surprisingly common here), and more. Quality ranges from average to excellent, depending on the vendor. The food truck offerings are especially delicious. It's all more expensive than it should be, but it's hard to head back to camp for a homecooked meal when there's so much happening inside the walls.
Overall crowdedness: Surprisingly comfortable. Chalk it up to the diverse lineup: a well-planned schedule divided the crowd naturally by genre and popularity, ensuring that anyone could get a satisfying spot at any stage they chose, at any time. The mostly flat terrain hindered the view for some at the smaller stages, but it made for easy travel between shows. Thursday was an exception, as the main stages were not in use, yet nearly everyone had arrived and was ready to rock. Alabama Shakes was the best show that few could actually see.
Not your festival if: You can't handle heat and long, active days. The music starts at noon, and there's enough good stuff to keep you occupied all day and well into the night — until dawn, in some cases. The grounds are almost entirely flat, so standing is essential for a decent view in most cases. You'll be exhausted, and not terribly comfortable in your tent when you finally make it home. For those who thrive on adventure, there's nothing like it.

Best set: The Shins. Armed with the most impeccable set of pop songs at the festival, James Mercer and co. plowed through their discography with surprising playfulness. An altered melody here, a new arrangement there, and an extended freeform jam to close out the set demonstrated that the band has been imbued with new life. A storm behind the stage and breaking rays of sunlight behind the crowd added to the electric atmosphere of the exhausted yet ecstatic audience.
Biggest dissapointment: Red Hot Chili Peppers. Klinghoffer's sloppy guitar playing clashed poorly with the tight funk of Chad Smith and Flea. The groove was there, the songs were there and the stage presence was definitely there, but they sounded messy, which is an instant deal-breaker.
Tip of the hat: The sound guys. Across the board, sound was fantastic, from the smallest tent to the biggest stage. Volume was tuned perfectly to the size of the crowd, and even in dense ensembles, every instrument was easily picked out. Considering the sheer volume of different setups per stage each day, the fact that they achieved some of the best sound I've heard at an outdoor festival is astonishing. These guys know what they're doing.
Honorable mentions: Childish Gambino, Ben Folds Five, The Beach Boys, Alabama Shakes, tUnE-yArDs, and The Main Squeeze

1) Charles Bradley & His Extraordinaires' heart-wrenching soul and mind-blowing cover of Neil Young's "Heart of Gold"
2) Radiohead's stunning, dreamlike set culminating in "Paranoid Android", the greatest rock song since "Bohemian Rhapsody"
3) St. Vincent slowly coming unhinged, letting loose the occasional scream and finally crowdsurfing
4) The adorable ?uestlove leading a super funky all-star Superjam featuring members of The Roots, The Time and P-Funk tearing through classics by Hendrix, The Beatles, and Zeppelin
5) Feist's gentle ribbing of audience members and her talent for directing crowd participation
6) Grouplove's effervescent dancable pop whipping the crowd into a gleeful frenzy
7) Phish inviting Kenny Rogers on stage to sing "The Gambler." Really
8) Fruit Bats' impossibly sunny, freewheeling folk pop

1) Missing P-Funk and Talking Heads legend Bernie Worrell as a result of not reading the schedule closely enough
2) Passing out from exhaustion mid-afternoon on Friday during a really good bluegrass set. Peaceful, but who's got the time for that
3) Too many boring, droning synth-based bands. Note to EMA: feedback jams aren't nearly as exciting as you think they are