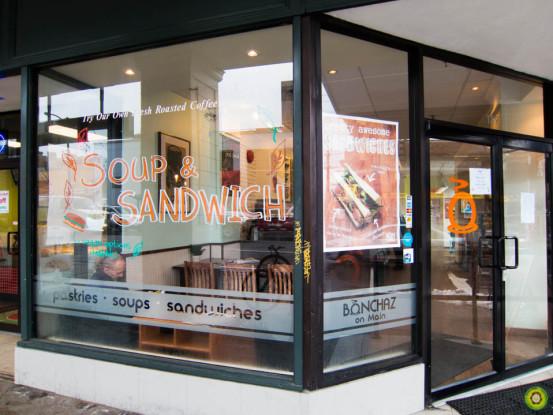 November 10, 2012.  That's the day that I bought VANEATs' #SUPERBonchaz dining passes for Bonchaz Bakery Café on Main & Broadway.  And it took hippoCHAN and I until now, to actually try it!  Still, it was pretty good timing as the food warmed us up for the blistering cold.  The dining pass included a Bonchaz bun, a bowl of daily soup and a sandwich of your choice.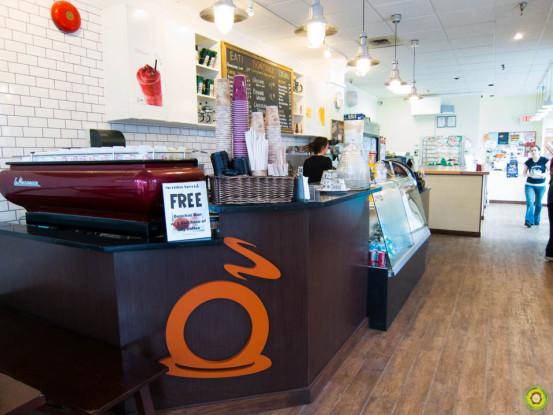 The wooden floors spanned a considerable distance as the café was very spacious and homey.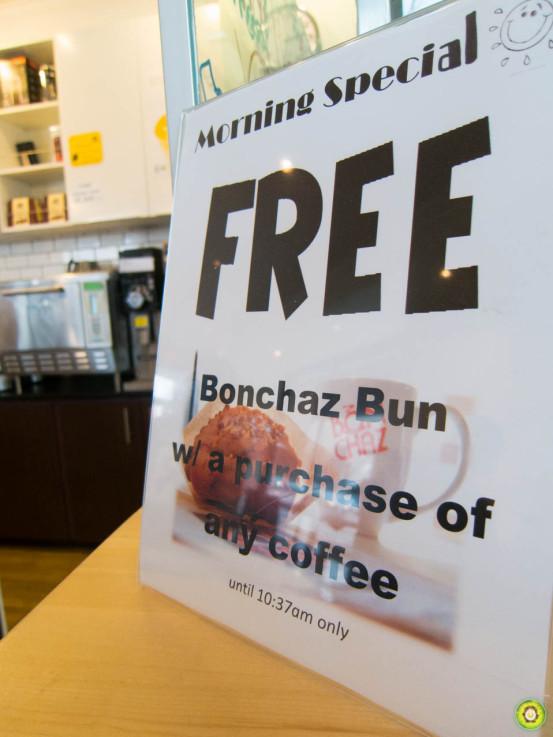 Every morning until 10:37am, Bonchaz offers a special deal:  Free Bonchaz Bun w/ a purchase of any coffee!  Why the precise time of 10:37am?  No clue…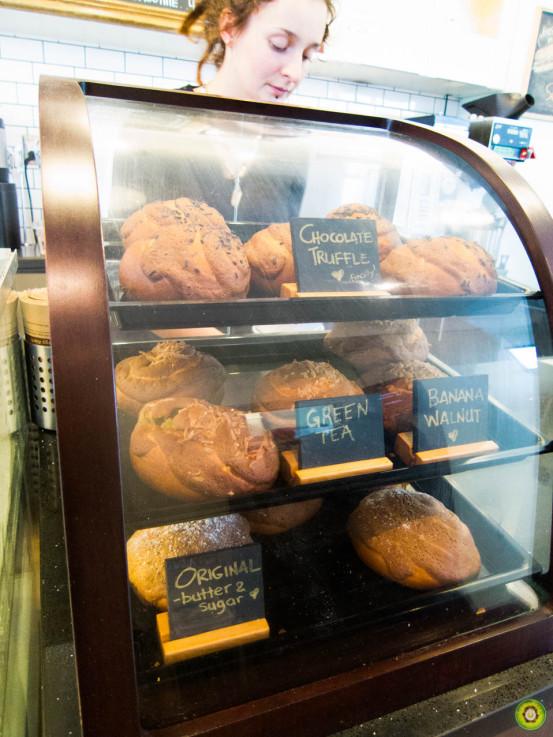 Here are the puffy and fluffy Bonchaz buns!  There's Chocolate Truffle, Green Tea, Banana Walnut, and Original (butter & sugar).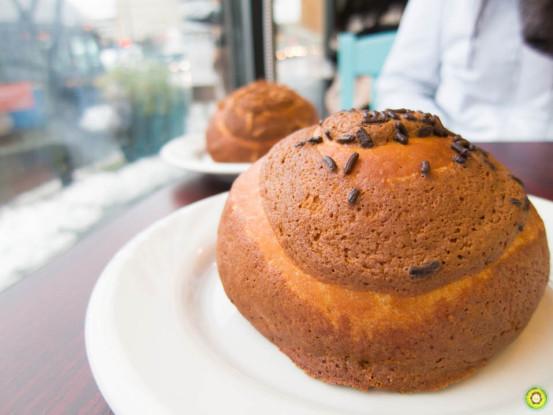 They ran out of the original Bonchaz, so we settled on the new Chocolate Truffle.  And we were so glad that we did!  Inside the airy orb, there's a chocolate truffle paste that was pleasantly deep in flavour.  It really tasted like a truffle!  Although, it was hard to split it between us because the paste was difficult to spread… we still managed, though :)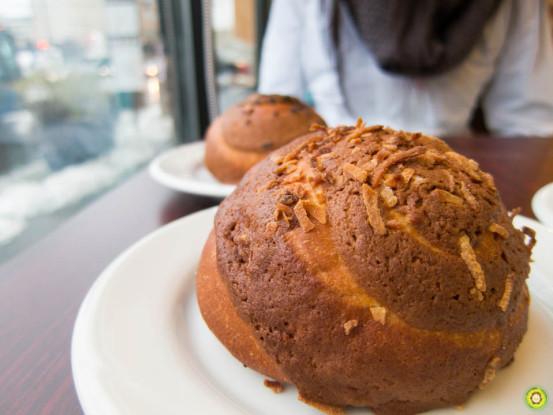 We also got the Green Tea Bonchaz.  While munching on it, I felt that the outer crust slightly resembled the top of a pineapple bun from Chinese bakeries!

Unfortunately, hippoCHAN couldn't detect much of the green tea flavour while I just thought it was overly sweet.  Either way, we were quite bummed out about this one.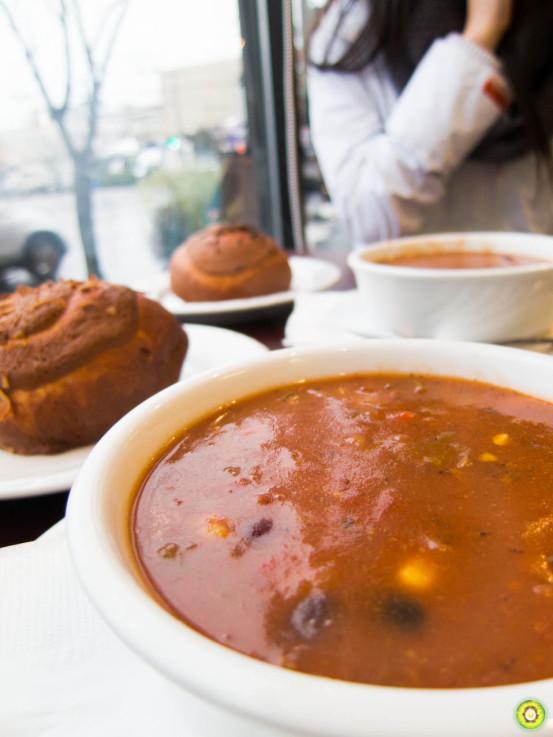 Usually, Bonchaz offers two different daily soups.  However, because it was super busy in the morning, they only had Vegan Chilli left… and I really enjoyed it!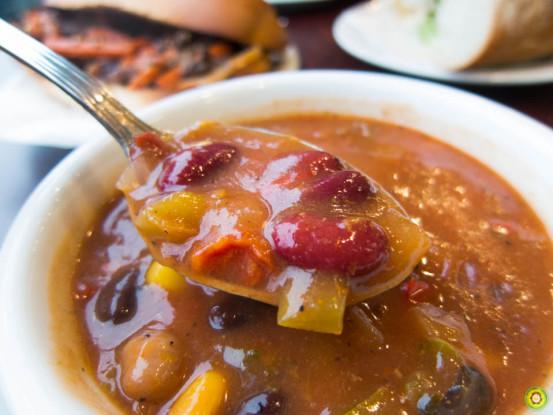 The chilli was packed with ingredients and super hearty.  It had a little bit of a kick to it, but it was nothing hippoCHAN couldn't handle.  This was absolutely perfect for the gloomy, chilly weather!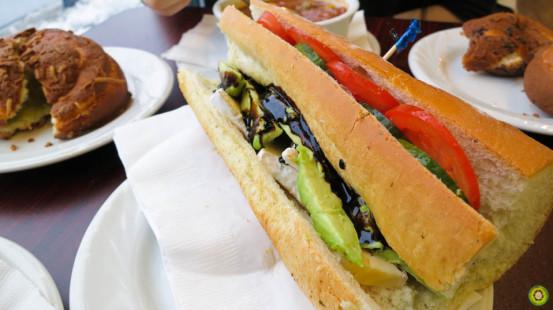 Because we had two dining passes, we got to pick two sandwiches; the first was the Avocado & Double Cream Brie.  It's drizzled with balsamic and served on homemade bread.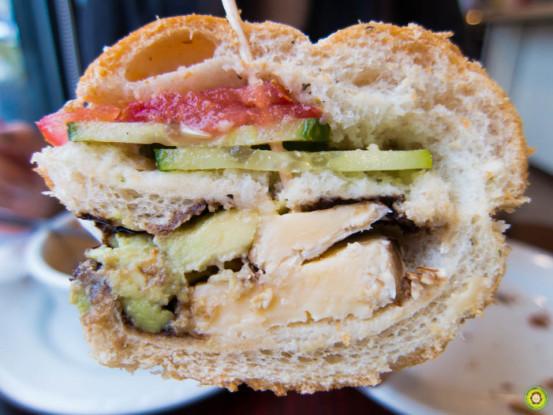 I didn't really enjoy this sandwich for multiple reasons.  Ironically, the cucumbers and tomatoes dominated in flavour.  This was partially due to the lack of avocado in the sandwich.  Moreover, I didn't like how it wasn't toasted and the cheese was simply too thick.  On the other hand, hippoCHAN liked the cheese… but, it was still 'meh' overall.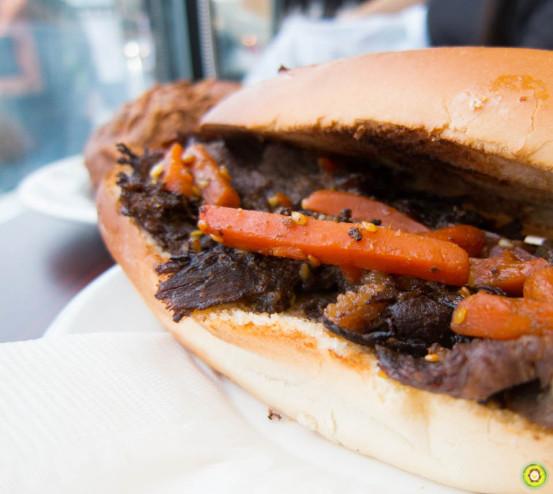 Our other sandwich was the Beef Bulgogi.  This one, I liked!  It's sliced ribeye that's marinated in soy sesame oil, with red onion, garlic and a dash of honey – stacked up on homemade hoagie bread.
It's big on savoury flavour.  The thing that I liked most about this sandwich was the texture of the beef: some parts were sorta like beef jerky, which was quite interesting.  With that being said, we both thought that the overall sandwich was too soft, and thereby needed more contrast in texture.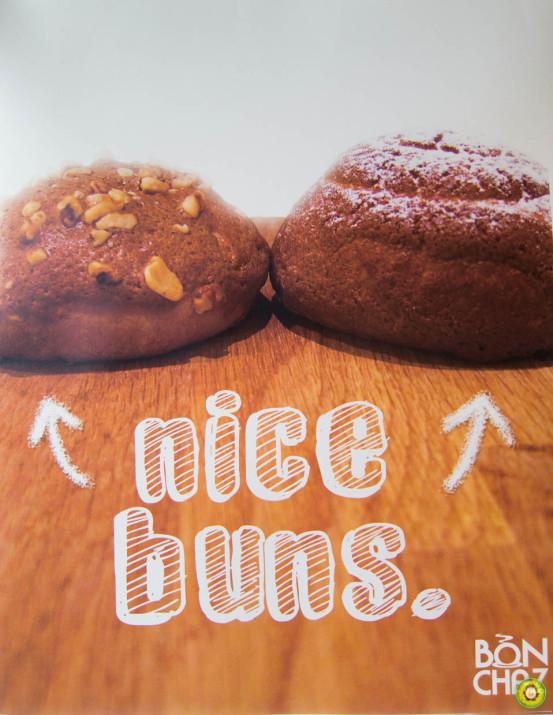 Yeah, there were some hits and misses.  If you like'd to try out Bonchaz, you can purchase the dining pass from VANEATS.ca!
Final Bytes
1.  Small parking lot across the street ($1/hr)!
2.  Get 6 stamps and get a free coffee or Bonchaz Bun!
3.  Busy mornings!
Foodobyte's Rating

---