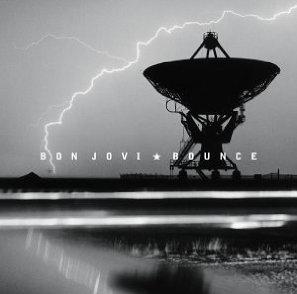 Cover of Bounce
New York and New Jersey are often referred to as having a neighbor-like relationship – much akin to the neighbor-like relationship between Texas and Louisiana. Therefore, when one suffers, the other suffers too. When New York experienced the horrible attacks on the World Trade Center on September 11, 2001 – New Jersey suffered too.
One of the greatest bands from the US suffered that day: Bon Jovi. Bon Jovi, along with many other bands and artists (including Bruce Springsteen, Blondie's Deborah Harry, etc) suffered in a way that was unfathomable to the rest of the nation: it was their backyard that was [literally] on fire. As artists, they did what they felt they should do: write about the events and how it affected them.
On Bon Jovi's 2003 album, Bounce, this is exactly what Jon, Ritchie and the rest of the group did.
The album's opener Undivided, directly addresses the attacks with the classic Bon Jovi style of  'hit them and hit them immediately where they will feel it.' Bon Jovi and Sambora waste no time in addressing the attacks and how it affected the people of New Jersey and New York with the opening verse "That was my brother lost in the rubble/ That was my sister lost in the crush/ That was our mothers, those were our children/ That was our fathers, that was each one of us/A million prayers to God above/A million tears make an ocean."
In fact, many of the songs on Bounce talk about the endurance of the American spirit including songs like The Distance. Other songs such as Everyday and Joey talk about living each day as if it's the last one. One of the best things about Joey is that Bon Jovi speaks of him as if he's an old friend from their hometown, which makes the "Joey Keys" character seem more real and tangible.
Other songs such as the Right Side of Wrong and Hook Me Up speak of Bon Jovi's days as a reckless youth in New Jersey.
Bon Jovi saves the best for [near] last with the album's title track, Bounce – which is a direct reference to the fact that the US went to war with Afghanistan after 9/11 to catch the perpetrator, Osama Bin Ladin. After it was announced that Bin Ladin was shot dead, people celebrated everywhere from Washington DC, various parts of New York City, various universities around the country. I can picture someone playing this song loudly over their iPhone.
Well done.