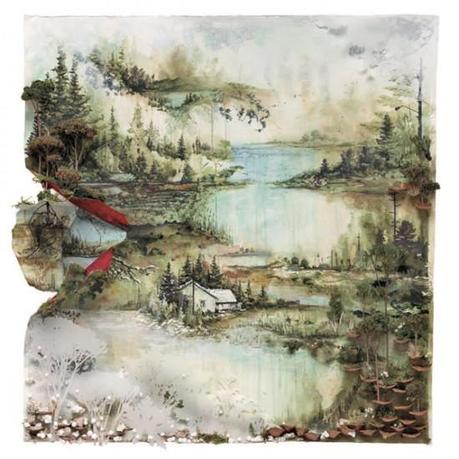 Calgary – Bon Iver
While Bon Iver will always represent the inspiration and experiences of Justin Vernon, the new self-titled album sounds like the true work of a band rather than an individual. In the place of raw, minimalistic guitar strumming stand layers of delicate picking, pedal steel, brass, and string arrangements. Recorded at April Base Studios in Fall Creek, WI, built by Vernon himself from an old veterinary clinic, the record's contributors include the likes of Greg Leisz (Lucinda Williams) on pedal-steel, Colin Stetson (Arcade Fire) on saxophone, C.J. Camerieri (Sufjan Stevens) on horns, and Rob Moose (The National) on strings.  Though not as bare musically, the overall emotive quality is still present. This is music designed to be contemplative, striking, and calming.
Overall, Bon Iver exudes a much lighter tone, one which I welcomed after the darkness that shadowed For Emma, Forever Ago. Though that album will remain one of my favorites, trying to recreate such a momentary mood and sound would have most likely been a disaster for both the band and its fans.
From the opening notes of "Perth", this shift takes a very firm hold. Along with a transition to gentle electric guitar, as opposed to off-tuned acoustic riffs, the songs are structured and layered much more richly and deeply. "Towers", "Hinnolm, TX", and even "Beth/Rest" are also prime examples of this tonal movement. Though these songs never pass for anything truly upbeat, their structure and melody are subtly hopeful and charged with redemption.
Bon Iver is not, however, without a few slower tracks. "Wash" and the opening of "Calgary" are the epitome of soul-calming, mind-easing music. Slow and beautiful in their delivery, they provide a perfect balance to the album and stay true to Bon Iver's original sound.
Beginning with a bright acoustic sound and stretched pedal steel, "Holocene" has become my favorite track on the album. At once familiar but still capturing elements of the band's new production style, the song reminds me of why I fell in love with Bon Iver years ago. While Vernon's lyrics continue to be curiously enigmatic and thought provoking, the way he delivers them has always been more important to interpreting their meaning than the surface of words. The sad tone of submission and realization when Vernon sings "I can see for miles, miles, miles" and "at once I knew, I was not magnificent" is truly captivating and could only be realized with Vernon's familiar falsetto.
Justin Vernon and the rest of Bon Iver have proven to be musicians in their purest form. Instead of relying on hackneyed production techniques and the dribble of superficial meaning, they design music that strikes more of an emotional chord than an auditory one. The beauty is below the outer layer, and the experience of discovering that is one people can share.