Most people who know me would certainly say that I'm a creative person.  I've studied art history, I've studied music, a smattering of my artistic creations hang on our walls in forms of photography and oils.  I am also an Interior designer by day.  You would think that this variety of creativity would easily parlay into other creative endeavors such as cooking.  However I am hopelessly adequate at best in the kitchen.  The idea of hosting dinner parties makes me hide in my shell and the almost daily dinner dilemma is the reason I have the most organized binder of take-out menus!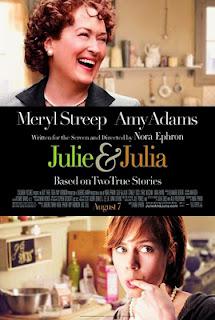 Perhaps the inner me is very disappointed in myself for feeling so defeated by pots and pans and a fridge full of raw ingredients which often sit idly!
Recently I caught a few minutes of a late night movie called "Julie and Julia".  The next day, I had to buy it and watch the whole thing!  It's a true story about the lives of two women.  When Julie Powell circa 2002, was feeling very aimless and low about her life, she and her husband came up with the idea of her starting a daily blog.  She would cook her way through Julia Child's "Mastering The Art of French Cooking" within one year and write about it.  The counterpart of this storyline was the depiction of Julia Child's life in 1949 when she and her husband Paul moved to Paris.  It was there she discovered her love of cooking.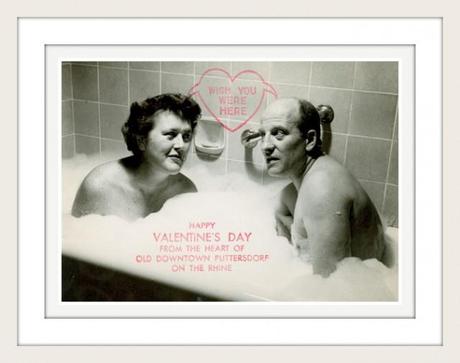 The Childs posing for another
creative Valentine's Day card
ohlovelylolo.wordpress.com
I have always shamelessly made fun of Julia Child.  She was a gawky woman with a very strange way of speaking.  She seemed very prim and proper and too regimented in her ideas of cooking.
"Julie and Julia" has shed a whole new light on this famous woman who was passionate, outspoken, (sometimes) foul-mouthed, outrageous and really ballsy!
"Scientific workability" was her motto.  Julia spent many hours toiling in her upper floor Parisian kitchen, trying to perfect all of her ingredients and recipes.  She had a life long love affair with butter and French cuisine.  Her devoted husband Paul was always delighted by his wife's creations and was fully supportive of her new found passion.
Irma Rombauers may have started it all with the "Joy of Cooking".  But it was Julia (along with partners Simone Beck and Louisette Bertholle) who demystified French cooking for 'servantless Americans', when the 2 volume books were finally published in 1961.
Julie Powell's perceived Waterloo may have been to eat her first egg or to debone a duck.  However mine is Julia's legendary Boeuf Bourguignon.  The challenges are to pronounce the dish properly as well as successfully create it in the (hopefully) near future.  Now if I can figure out what it means to brown-braise onions...
Carol