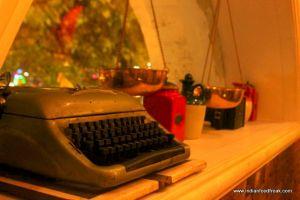 Artefacts
Once upon a time, Mumbai was Bombay, and there are people who still prefer it that way. Step into Bombay Vintage, the newly opened all day diner and bar in Colaba and you will be entering into that Bombay era. The other day,  the other half and I went to this place to check out what new they have to offer and we sure were impressed.
The retro styled ground floor which has an art deco bar, has the walls adorned with old Bollywood posters and ads. A wooden staircase leads to the mezzanine floor which has a different set up altogether. This part is more vintage with the arches, marble top tables with wooden stands and velvet cushion covers on chairs. It is in a heritage building and they have retained the old Bombay feel and décor. There were some old photographs, some memorabilia here and there. And there were  attentive waiters with Gandhi caps. I guess that's their tribute to the Dabbawallahs of Bombay/Mumbai.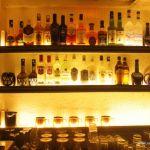 BAR
We sat upstairs. When we asked for regular water, they poured the water from an aluminum kettle. If you ask me, that's something I have grown up with and still have one at home. Familiarity  sank in and   we smiled at each other. To start, I asked for an Ice Tea (Rs.130) which was regular. The man asked for a Manhattan – Blended scotch, Sweet Vermouth , Bitters ( Rs.360) which was just as strong as he preferred it.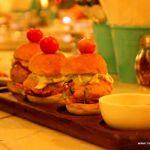 Sliders
The names of the dishes in the menu had already made us curious. We were served Fish and Chips (Rs.295). The fish was soft and juicy inside with a  perfectly crisp outside. Then came the more interesting Sabudana Croquettes (Rs.175) , Neer Dosa Sukka Rolls (Chicken Rs.265 / Veg Rs.245 / Prawns Rs.295) and Vada Pav Sliders (Rs.145). Keeping to their fusion status, all these appetisers were perfectly cooked and very well presented. Their thin crusted Cajun Spiced Chicken Pizza (Rs.265) was really flavourful.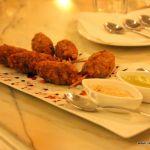 Corq
Chef Pradip Rozario who had curated the menu, was there too as he had come down from Kolkata for the formal opening of Bombay Vintage. While narrating a story about 15 years back, he told us about how he had left his job in Taj and had moved back to his home town Kolkata to start his own restaurant. Fusion food was still a new concept in Kolkata then. Bengalis take food very seriously. So chef had to think hard to come up with an innovative menu to suit the palates of the people in the City of Joy. One day he had a Marwari guest who asked for simple Khichdi. It was not in his regular menu, but the chef went to the kitchen, prepared khichdi and served with a secret sauce! The guest while leaving asked about the sauce and said that it  added to the whole khichdi and made it even tastier. That secret sauce was Schezwan sauce. Thus a fusion food trail begun for Chef Rozario and that continues. In fact while coming to Mumbai that day, he came up with the idea of Thai Chicken Biryani and how to serve that on table. It was off the menu and was served in a pressure cooker with Thai red curry and assortment of papadums. For us, that was the star dish for the evening, very flavourful and perfectly cooked. Going with everyone's favourite, we tasted little of Makhni Pasta (Veg Rs.265 / Chicken Rs.295). I found that makhni flavor slightly overpowering for Penne. If that can be toned down a bit, I will sure go for that again. For vegetarians Bombay Vintage has a lot to offer. The Sabudana Risotto  (Rs.265) wins hands on. I am sure there will be many who would go back for this one dish only.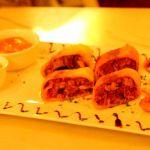 Sukka
For Non Vegetarian Mains we were served Bassa Involtini with gassi sauce, tapioca risotto (Rs.345). Honestly we were so over whelmed by the rich flavourful Thai Biryani that the Bassa was lost in that. I guess another visit is due soon. There were many interesting fusions like English Pav Bhaji Pizza (Rs.245) or Pork Chops with jacket potato, glazed vegetables and apple sauce (Rs.395) for which I would love to come back.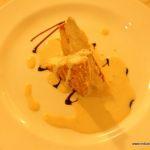 Dessert
For Desserts, we went by the server's suggestion and tried Mascarpone Sandwich (Rs.245) and Jaggery Pudding (Rs.195). I am not too fond of Shahi Tukda. But this version of the same dessert with Mascarpone cheese wins hand down. Though not overly sweet, the desserts made a perfect end to a very delightful dinner.
Bombay Vintage has opened with the promise to be one continued fusion festival for Mumbaikers. Located in the heart of Colaba, this place is not cheap but surely inexpensive considering their location, the elaborate menu and the portions they offer.
Ratings (out of 5)
Food: 4| Drinks: 3.5 | Ambience: 4 | Service: 4 | Overall: 4
Meal for Two: Rs. 2000 | Credit Cards: Yes | Alcohol: Yes | Timings: 24 Hours | Wheel Chair Friendly: No
Address: Opposite Regal Cinema, Indian Mercantile Mansion, Regal Circle, Madame Cama Road, Colaba, Mumbai
| Telephone: 022 30151662

Disclaimer: This review was done on an invitation from the restaurant. Due judgment and care has been applied by the author to remain objective and unbiased in the review, but readers need to consider this review keeping this fact in mind.
This Post has been contributed by Ms. Mayuri Konwar