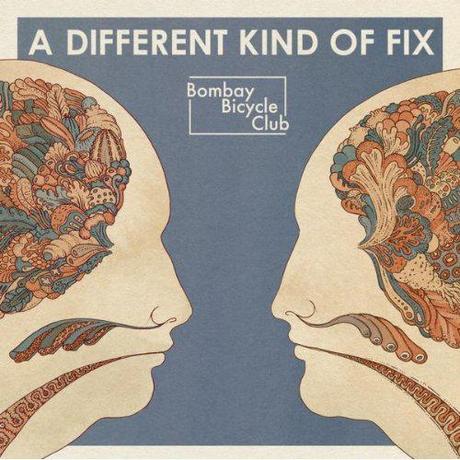 With their third album, A Different Kind of Fix, Bombay Bicycle Club (@bombaybicycle) proves that they're much more than a group of post-Belle and Sebastian folk bandwagoners. Though Flaws was released only a year ago, the band shows immense growth with this record, offering up the kind of rock that recalls indie heavyweights Arcade Fire and Broken Social Scene. The first track on A Different Kind of Fix "How Can You Swallow So Much Sleep" also landed Bombay Bicycle Club a coveted spot (as much as we may not want to admit it) on the Twilight: Eclipse soundtrack alongside the likes of Metric, The Dead Weather, Band of Horses and more.
The overall tone of the album is a heady combination of intricately intertwined guitars and grandiose vocal harmonies that seem destined for stadium-sized crowds. Each song seems to grow and compound upon itself, resulting in a very organic, natural progression, often leading to a soaring chorus from lead singer and co-producer Jack Steadman — particularly in "How Can You Swallow So Much Sleep", "Beggars" and "Lights Out, Words Gone".
A few songs set out to change the pace of the album, including the lead single "Shuffle", an upbeat, dance-worthy track featuring a very Matt & Kim-esque piano loop. The range shown on A Different Kind of Fix becomes impressively clear when comparing tracks like "Shuffle" and the rockiest song on the record, "Bad Timing", to the very Radiohead-King-of-Limbs sounding "Still" and the stunningly beautiful "Fracture", featuring the haunting vocals of UK singer-songwriter Lucy Rose.
Despite its dynamic musical range, the album's pervasive lyrical themes create a cohesive, complete thought worthy of a close listen.  With all the trappings of a love-lorn, twenty-something, traveling musician, Steadman sings lines like "No, never can it be, these are the words you said to me… No I'm not home enough, then I get back and you have taken off" and, "Nod my head so dumb with love… shut my eyes pretend it's there."
While lines such as those and the bitter-sounding, "Keep your old and wasted words, my heart is breaking like you've heard," may not help the argument that the guys of Bombay Bicycle Club are, as much of the British media refer to them, "young and fey", there is no denying that the band has shown very noticeable growth with this latest release. It seems that A Different Kind of Fix is proof that Bombay Bicycle Club is not your average UK indie rock band.