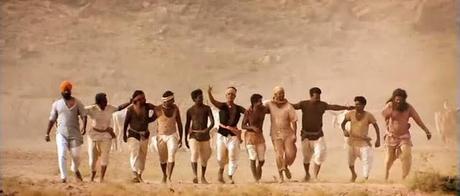 Indian squad in all it's glory!

As the name of this post suggests, this series is basically about some of the best movies Hindi cinema has to offer. As a film lover and someone who has grown up watching these movies, I want to give the glimpses of my world to everyone else who hasn't yet been initialized to it or is under the impression of it being nothing more than glitzy, glamorous melodrama and random song and dance sequences. There is more to it and I intend to showcase that through these posts. 
I wrote first entry for this series
almost one and half years ago
for LAMB Foreign Chops

. That day I made a conscious decision of starting this series with Satya(1998)than with Lagaan(2001) because I thought later would be too obvious a choice. You would imagine I will get back to it right after and I promise I did intend to but for some unexplained reason I kept postponing it. So today as I finally sit down to do just that, I am really surprised that it took me this much time and more than half a dozen posts to get back to it. That is not a strike against the quality of this film because I believe Lagaan is a quintessential Bollywood film. It is also a monumental film, a trendsetter in many ways that I will get to little later in this post. There will be spoilers almost throughout this post. So if you haven't seen this film and don't want it spoiled, avoid this but to tell you the truth, I don't think it matters. Everything that happens in this film is trademark Bollywood. So if you know the industry, most of it will not come as a surprise to you though it's no less riveting.
It takes place sometime in nineteenth century, when India was under British rule, in a small village called Champaner. Champaner hasn't seen a drop of rain in whole year but Captain Russell, British officer in-charge of Champaner and other villages in the vicinity which were originally under Raja Puran Singh's rule, wants to double the taxes. Villagers know that it won't be possible for them to pay a penny and decide to go and request Puran Singh to exempt them for this year. Captain Russell, however, has some other plans. He singles out Bhuvan, a young, dynamic guy who has already caused some troubles for him, and challenges them for a game of cricket. Britishers have been playing this game for a while and are quite skilled in it and villagers don't even know how to hold the bat right. But catch is if they win, they will pay no tax for three years and if they loose, they will have to pay triple tax. Quite a do-or-die situation! Bhuvan accepts the challenge. Initially everyone feels like it is a suicide mission but Bhuvan is determined to go the distance. He slowly starts putting a team together but real turning point comes when Captain Russell's sister agrees to teach them the game as she thinks they should get a fair chance in this match.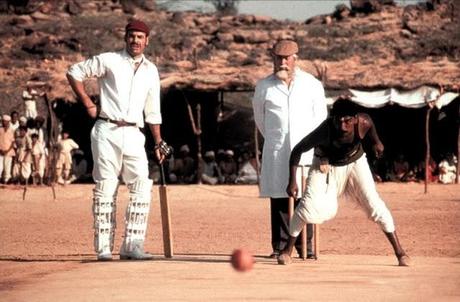 Obviously, game of cricket forms an integral part of the whole narrative. As someone who loves the game, what's interesting to me is during those three days of this match, every single thing that can happen in the game of cricket does happen. You have freakish run-outs, a hat-trick, on-ground controversies, complete collapse of batting orders and unlikely partnership that leads to
last ball heroics. Anywhere else all these in one place would have looked hokey but this script makes it enjoyable. I also admire that director Ashutosh Gowarikar chose to show Bhuvan's teammates to be unaware of nitty-gritties of game. No one can in such a short time as villagers were given but this David vs Goliath match-up is what makes it so entertaining and thrilling. Also, cricket is not the most well-known sports in many parts of the world. So I was always skeptical about how it will travel overseas. I am so glad to be proven wrong by many people who have enjoyed this film as much as I did despite knowing next to nothing about the game. To me that is indicative of the game being so much more than just a cricket match.
And it is not 'just' a cricket match. As the whole diaspora starts to think of this as an opportunity than calamity, it becomes a channel to vent their anger, their frustration against their oppressors. A symbolic fight to beat British at their own game, in this case quite literally. It becomes some sort of glue to bring everyone together, a communal thing that everyone celebrates together or even reproach at times. By including Kachra who is from lower cast who were socially condemned then in team, Gowarikar also uses this opportunity to make social commentary. Another aspect that I make special point of mentioning in this posts is songs. In case of Lagaan, there is a special reason for that. If you consider all the songs in any film as some sort of album, I think I can make a very strong case of this being THE best in 100 years of Bollywood. Not only is every song just so much better than the previous, there is so much variety in them that it's mind boggling. There is an inspirational song, devotional song, straight-up love song, communal rain song and sort of lovers quarrel song. Each and every one of them have beautiful meanings, offer much more than surface value and are only one-uped by probably the best music A.R. Rehman has done in his career. 
Like me, there are many who consider it to be a 'quintessential' Bollywood film. Whatever you can expect from a typical Bollywood movie, you will get it here. You have an uplifting story with message that has a happy ending and provides a lot of social commentary. With Elizabeth falling in love with Bhuvan and Gauri who everyone in the village knows will be married to Bhuvan one day, you also have a love triangle, songs, good triumphing over bad with our protagonist snatching the victory from the jaws of defeat. You even have a character who sells the villagers out for his hatred of Bhuvan but even he redeems himself by the end. And on top of all that, there is cricket in the cricket crazy nation of billions. What else can you want? However where Lagaandistinguishes itself from most others is it handles this juggernaut really well. Despite being a sweeping epic of David Lean proportions which many others have tried in Hindi industry to varying results, there is not much I can find fault with in here.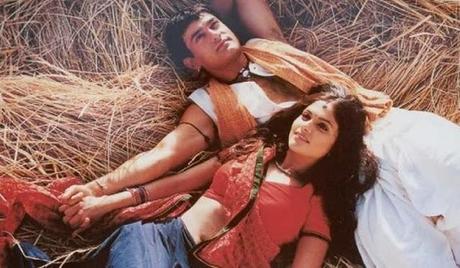 It has created quite a legacy for itself by being only third and last Indian film to be nominated for Oscars (Mother Indian(1957) and Salaam Bombay!(1988) were the other two). But it has nothing to do with what I was talking about being a trendsetter. As far as I remember, it was the first Indian film that had a proper marketing budget and it was done with perfect planning. Aamir Khan, who starred in the film and also produced it, made sure that it would reach every corner of the country and everyone was talking about it even before it was released. But the reason I say there was great planning behind it is despite being marketed so heavily, no one had any idea that there was cricket involved in it until the day it was released. And that cricket match consists of about 50% of it's 224 minutes run time! When people came out of theaters on the opening day, everyone was extremely surprised about it. Once it rode that wave of surprise, it literally never looked back till the day of Oscars.
I like this film. I have always liked it but at the same time, I don't consider it to be one of my favorite films. As good and legendary it is, I have always had some minor quarrels with it. Minor because I am fully aware it's unfair to hold it against it but I can't help it. I have seen this movie more than half a dozen time, last time being less than a year ago, but over the last few watches I feel like this is dated already. I also have small problem with overall acting and tone of the movie. Even though there is a lot of humor in it, it's mainly melodrama and it's so much at the knife's edge that a smidge more of it would undo everything. It never really crosses that edge for me but it feels like it would on many occasions. However here I would like to underline the fact that I still think it is one of the essentials. I will even go further and say that if you've never seen any Bollywood movie before, Lagaan is as good a start you can hope for.
Previous Essentials:
Satya(1998)
Sholay(1975)
Jaane Bhi Do Yaaron(1983)
A Wednesday(2008)
Do Bigha Zamin(1953)
Sarfarosh(1999)
Taare Jameen Par(2008)