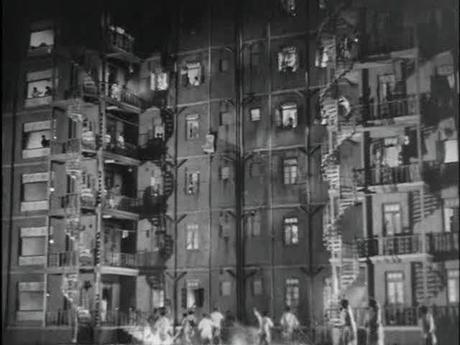 As the name of this post suggests, this series is basically about some of the best movies Hindi cinema has to offer. As a film lover and someone who has grown up watching these movies, I want to give the glimpses of my world to everyone else who hasn't yet been initialized to it or is under the impression of it being nothing more than glitzy, glamorous melodrama and random song and dance sequences. There is more to it and I intend to showcase that through these posts.
All the films I have highlighted so far in this feature are sort of obvious inclusions. Not that they are unworthy of it, far from it, but if you ask anyone to name 10 Most Essential Hindi movies, there is a good chance that person will include 5 of these movies in that list. All these are fairly big names which have garnered quite a reputation over the years for being some of the best this behemoth of an industry has to offer. Nothing wrong with that, especially since I agree with their 'Essential' status as well. For the first time, I am going for a little obscure film in this series. For reasons that are unknown and incomprehensible to me, Jaagte Raho(1956) is not a movie that gets mentioned fairly regularly in Bollywood vernacular. It certainly deserves much more attention that it gets and if I can steer few people its way though this post, I will be extremely happy. That's what I intend to do with these posts anyway!
I have not seen it happen for a long time now but in olden days, chowkidaars or security guards and police constables on their night duty used to keep each other awake through the night with loud, intermittent shouts of "Jaagte Raho!" or Stay Awake. Title of film is a reference to that as it takes place during one single night in a big apartment complex of a city. This film follows a peasant's first night in the big city. He has just arrived empty handed from his village looking for job and is roaming through the night roads of city looking for nothing other than just a drink of water. It all fairness, it should not be too hard to find but he learns that the hard way, probably even in worst possible way.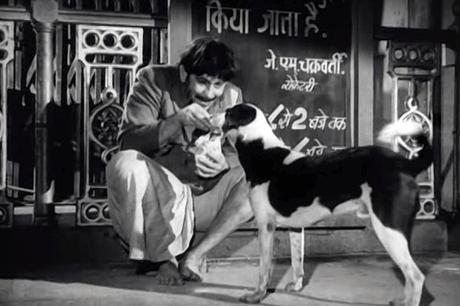 After looking for it a while, he comes across a dog drinking water from leaking water tap inside a big housing society. He sneaks in through a small gap of their locked main door. But before he can quench his thirst and get on his way, he is sighted by a police constable on his regular night strolls. Policeman takes him for a thief and wakes up security guard of society who in turn wakes up whole society warning them of presence of a thief in their society. Next two hours consist of everyone in society hunting him like a dog and him trying to save his skin. Various encounters he has with multiple people in that society not only produce lot of dark humor but also expose dark side of so called serene, sophisticated life of city people.
First house he gets into to hide from everyone has two illicit lovers meeting in the dark to hide from girl's father. Sudden clamour this thief has created puts them at great disadvantage as these paramours can't hide in house for fear of her father, can't go out either for fear of getting caught. Next, he follows an outwardly gentleman looking guy but soon finds out this guy has lost everything on horse races and even witnesses him stealing his wife's jewelry. Then he witnesses a drunkard forcing his wife to sing and dance for him. As he goes from one house to another, gravity of crimes he witnesses that are so well swept under sham of sophistication gets more and more serious and distressful and our peasant gets trapped deeper and deeper into it. Whole thing culminates into last half hour which gives us many twists and turns but is
brilliantly executed. Best thing about it though is he gets to drink water; for which he gets into all this trouble;
only

after he manages to get out of that building, in very last frame of film!
Jaagte Raho was made under RK films banner which has been dormant for past few years but is one of the legendary production houses of India established by Raj Kapoor. Kapoor family is nothing short of royalty in Bollywood after producing legend after legend for four generations and Raj Kapoor is probably biggest luminary they produced. Apart from producing it, Raj Kapoor, who is considered as the greatest Showman of Hindi Cinema, plays central role of peasant. One of the joys of watching this film was getting to see so many known actors pop up in other roles. I would sooner recognize Tom Cruise in Tropic Thunder(2008) than I would Pran as reporter in this film. Ifteqar, who would go on to make a career out of playing cop, is leader of search party in charge of finding thief or Pradeep Kumar, secret lover of first house, known for Jo Wada Kiya Wo...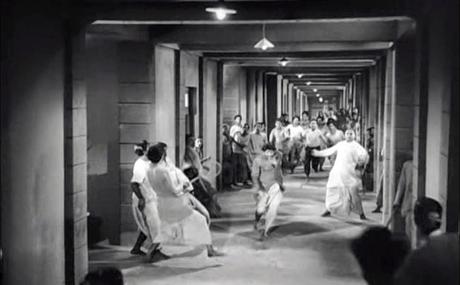 I will never deny him as a legend or impact he has had over the industry or on generations after him, but I have always had my reservations against Raj Kapoor both as an actor and director. Though it is mostly based on films in the later phase of his life, his films are tedious, laborious and over sentimental. He is also known for playing almost same character in every film and you see traces of that character even when he was not really playing it. But I will also be the first one to admit that this is like saying Charlie Chaplin, who BTW was huge inspirational for Raj Kapoor's act and it was evident, did nothing other than playing a tramp all his life or Hitchcock did nothing other than thrillers. Like Chaplin and Hitchcock, his act had much more nuance to it if you care to scratch beneath the surface. That act gave some of the most popular and well known pieces of art like Awara(1951), Anari(1959) or Shree 420(1955) all in same decade. That was the Golden Age of Indian cinema after all!
1950s is considered as the Golden Period of Hindi cinema and for a very good reason. '50s is to Bollywood what '70s was to Hollywood. That was the time when Parallel cinema got its biggest exposure and almost merged into Mainstream cinema. That was the time when directors tackled different subjects and presented different themes. Some of the biggest stars ventured into many different territories, something that dearly lacked in Bollywood in recent times, or even became big by doing so. And more importantly, they got recognition. Bengali directors played vital part in taking industry there. Satyajit ray, probably the only Indian director with international acclaim got his start with Apu trilogy in '50s though he didn't make a Hindi movie till late '70s. Bimal Roy, a director who inspired generations of directors to follow, was at his peak during that time. Hrishikesh Mukharjee, a personal favourite, got his start with aforementioned Anari and I am sure there are many more that I am missing. To the best of my knowledge, this is that only credit of director Amit Moitra but I would like to believe that this high tide of Hindi cinema and influence of Bengali directors then played some part in that.
Rating(out of 5):

Previous Essentials:
Satya(1998)
Sholay(1975)
Jaane Bhi Do Yaaron(1983)
A Wednesday(2008)
Do Bigha Zamin(1953)
Sarfarosh(1999)
Taare Jameen Par(2008)
Lagaan(2001)