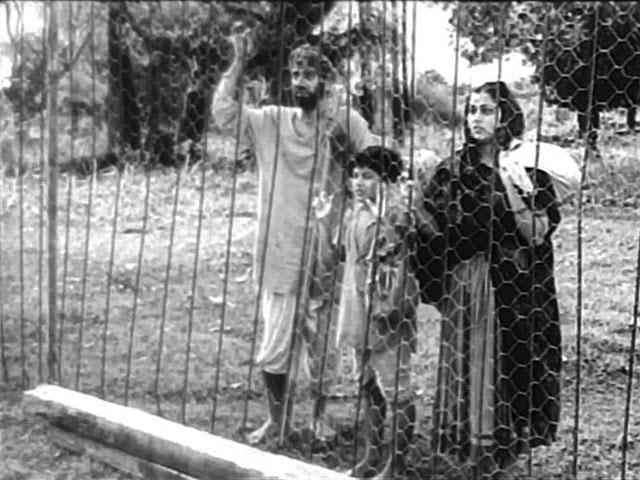 Sorry for the crappy images but even Google couldn't get me anything better.
Last month I did a post on Bicycle Thieves(1948)for my favourites' series. While watching it, something struck me and I started realising similarities between that and the film in question here, Do Bigha Zamin(1953). It wasn't my first time watching either of the film but it certainly was the first time it struck me. I don't intend to say this Indian classic is a copy of De Sica's Italian masterpiece because it is most definitely not but I am quite certain that like many others, director Bimal Roy must have been influenced by it to some degree. As I talk more about the film, I think you'll notice the similarities too. Being a classic, I have heard a lot about it; for many years and from many different sources. It also contains an iconic scene that anyone remotely interested in Indian cinema certainly should know about. I have seen many parts of it here and there. However despite having known it from the numerous pop culture references, I had my doubts whether I had really seen it from start to finish at least once. Bicycle Thieves set the stage nicely for it and Bollywood Essentials was due for another post anyway. So I decided to take this chance and try to throw some light on this, Bimal Da's gem of a movie, Do Bigha Zamin.
Do Bigha Zamin
is a certain classic of Indian cinema. A cult favorite and one of the best examples of Parallel cinema or Indian New Wave, as it was known outside of India. The title is a reference to a poem by Rabindranath Tagore which was titled 'Doi Bigha Jomi' which is usually translated to two acres of land though 'bigha' is a much smaller unit in comparison to acre. Story centers on one family of a farmer Shambhu Mahato, his wife, one son and old father. Shambhu owns a small piece of land which is surrounded by other parts that local landlord either owns or has acquired from other peasants who owed him money. This landlord, Thakur Harnam Singh, has received a lucrative offer from some businessmen to build a mill on this piece. Shambhu's farm right in the middle of it is the only real problem that Thakur faces. Thakur tries to coax him in selling it but that land being only livelihood of his family, he denies him firmly. Thakur however, has other ways to tighten his reigns on him. Shambhu owes him Rs. 235.50, quite a big amount for a peasant to pay by 1953 standards and Thakur orders him to pay him right away. When he fails to do so, Thakur also brings a court order that obliterates Shambhu to pay this money but at the same time gives him a little respite by giving him 3 months to pay this sum.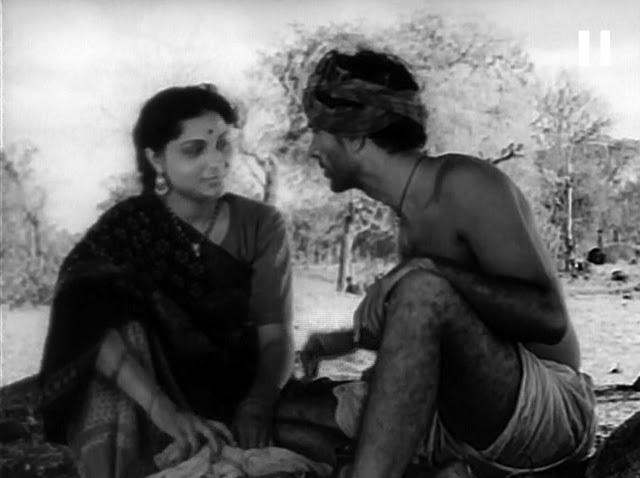 Again, Sorry for the quality of images !!
After trying everything he can in his small village with no luck, he decides to go and try his luck in Calcutta (now Kolkata) because someone tells him, "Calcutte me to paise hawa me udate phirte hain. Bass pakdo aur jeb me bharte jao". It rains money in Calcutta; all you have to do is catch it. He and his family with him, goes through different hell every day in this unknown city, trying to raise money to pay off landlord's debt and save his land by pulling a rickshaw. Apparently Balraj sahani who plays Shambhu actually worked as a rickshaw puller in Calcutta for his role and you can easily see the pains he has taken for it. There is no other scene where it becomes clearer than the one I talked about earlier. At this point in the movie, it becomes clear that Shambhu will have to work extra hard to pay off his loan. One day, young man sits in his rickshaw and asks him to chase another rickshaw in which his girlfriend's riding. She is kind of teasing him to chase behind her and catch her. He offers Shambhu more money if he catches up with her. Closer they get, more the money his ride offers. In an attempt to appease his customer and earn some more cash, he runs his heart out but unfortunately gets terribly injured. This scene works so well because of the way it's shot, the way it's acted and more importantly what it represents.
Where this film scores most is in the natural acting of all the characters including the child actors. His son does go little over often but for a 1953 film, this is more than acceptable and when I talk about child actors, I have someone specific in mind – Lalu Ustad. To my amazement, he is played by someone who went on to become a famous comedian with the most well-known role of Soorma Bhopali in Sholay(1975) – Jagdeep. Off course, main focus is on Shambhu; Balraj Sahani in his most revered role turns in an amazing natural performance. Nirupa Roy, an eternal mother before Rakhee took that title from her, is in rare lead role as his wife. Even though her character is changed, fate of her character hasn't much. Another thing that I strongly noticed in the film is its language. It was regular Hindi, it wasn't even very florid but at the same time, very pure and so beautiful that it put a smile on my face. It does loose a little in the end when everything starts falling around him but by then, you are so invested in the characters that, just like Bicycle Thieves, I was almost afraid of anything dreadful happening to them. Thankfully, it didn't break my heart as much as Italian film did though none of them escapes unscathed by the end.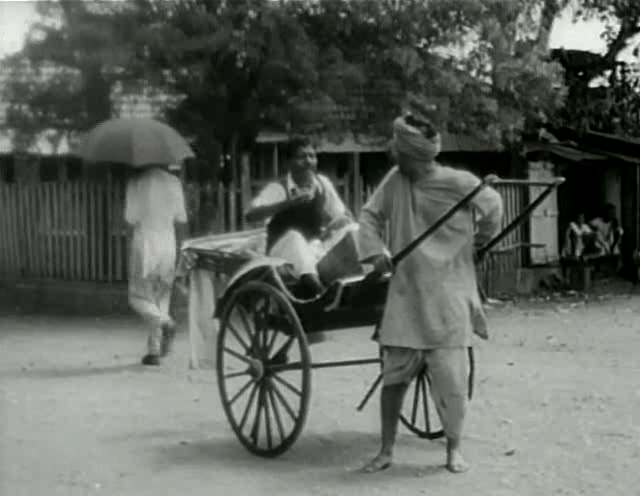 Satyajit Rey is probably an only Indian director, an auteur known to the world. However he rarely made any Hindi movie (2 to the best of my knowledge, one of which is a TV movie). Barring him, Bimal Roy should the most influential director who actually worked in the Hindi film industry inspiring generations of directors that followed, including a personal favorite Hrishikesh Mukharjee. Even though he had his career cut short due to his death at the age of 56, Bimal Roy made many movies like Sujata(1960) and Madhumati(1958) that have been trend setter in many ways. A real expert at the task, his movies always had the perfect blend of artistic approach that scholars can admire and commercial elements to lure the common movie-going people. With a strong sense of social responsibility, many of his movies take a stand against the evils of the society – a theme very much prevalent in Do Bigha Zamin. Another theme that is very much apparent in the movie is socialist nature of the story. In early years after independence, India as a country had a lot of inclination towards the socialism; mainly due to Jawaharlal Nehru who was Prime Minister then. So in more than one way, this is quite an accurate representation of a certain cross section of society at that time.
Do Bigha Zamin
was the recipient of first Filmfare award and the first Indian film to receive and International prize as well, at Cannes winning Best International Film in 1954. One of the early films of Parallel cinema movement which set the trend for many more to follow is certainly a film that any Hindi film aficionado should not miss.
Rating(out of 5):

Previous Essentials:
Satya(1998)
Sholay(1975)
Jaane Bhi Do Yaaron(1983)
A Wednesday(2008)