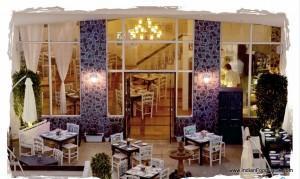 I wasn't expecting much from a restaurant located in Sapphire mall, Gurgaon. And rightly so, the mall that is located in a narrow road facing Orchid Petals apartment with no inside parking facility (as yet) and in case you plan to take escalators instead of a lift, you will have to roam around the entire floor to catch escalator to the next floor. However Bohemia looked like as Oasis in a dessert. Beautiful outdoor seating, lovely music and semi-finished looks on the inside walls & tables gave it a thoughtful Mediterranean feel, going with the cuisine it offers.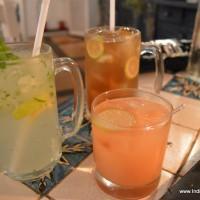 Not many restaurants in Gurgaon offers 100% wood fired clay oven for pizzas and that puts Bohemia in a different league. The complimentary focaccia bread served was a tad dry. In the mean time we ordered for the cocktails and my drink – Guava Spice (325) was tangy and refreshing with predominant notes of tobasco. Unlike many other overly sweet cocktails, this one was different and I liked it. The LIIT (425) served was as potent as it should be.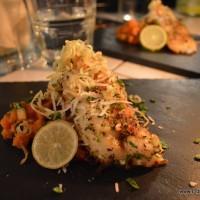 The first dish to arrive was wood fired charmoula chicken (275) served with hummus sprinkled with zattar. The succulent chunks were indeed very nice however I missed the smoky flavor that should have come from the wood fired oven. The lamb kebabs (325) done in Moraccan spices and served along with Tahini dip were mouthwatering. Every bite into the morsel prepared us for the next bite. Chimichurri rubbed Basa (375) was a bit over salted given the salt content in chimichurri. It was cooked well to retain its moisture and the accompanying mashed potatoes with flavors of Jalapeno and olives were even better.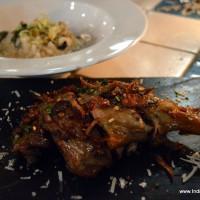 The Pepperoni pizza was another ace from the clay oven. The edges were crisp but not burnt and the base was right. Few more pieces of pepperoni and it would have hit just the chord that an excellent pizza touches. The best was still to come, risotto served with duck leg confit. The risotto was creamy without addition of cream; a sign of a mature chef. Duck leg confit was undoubtedly the best with crisp skin and very tender and juicy meat inside. Wish the risotto was a bit al-dente.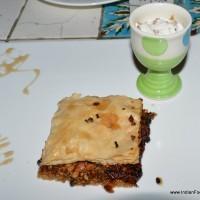 The dessert – Baklava (245) as mentioned by the chef cum manager, Setu Gupta, was a Greek version and may not fit into the common notion that an average person may have, however it was nice. The accompanying in-house made gulukand ice-cream took the flavors to a different level.
Service though polite lacks training. For a place which will definitely leave a mark once the word spread and true blue foodies start coming, it can hardly manage with the staff that do not complete the experience which it has done well to offer with its ambience, food and drinks.
Ratings (Out of 5):
Food: 3.0 | Ambience: 4.0 | Service: 2.0 | Overall: 3.0
Meal for two: Rs 1500 (Without Alcohol) | Happy Hours (Buy 1 get 1): 12 Noon – 8PM | Credit cards: Yes | Alcohol: Yes | Home Delivery: Yes
Address: Bohemia, Third Floor, The Sapphire, Opposite Orchid Petals, Sector-49, Gurgaon | Tel: +91 124 4378999/ 8377887701