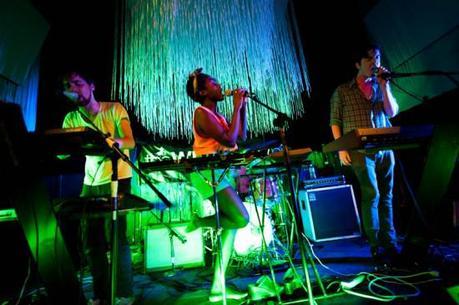 We here at The Wild Honey Pie are known for many things: our enthusiasm, our ability to sleep through Eric blasting The Beatles at full volume (on our drive to Newport), and, of course, our wildly prodigious parties (yeah, fucking prodigious). On Saturday night we threw another shindig (this time with fellow bloggers I Guess I'm Floating) with several bands in attendance at Brooklyn's Cameo Gallery.
The evening started with the Boys and Frogs (@boysandfrogs) , a stellar indie pop band from Phoenix. While they played to a small crowd, they gave an energetic performance and delivered a solid set of infectious pop songs, complete with a killer sax solo.
The mood was brought to a mellower place by the phenomenal Port St. Willow (@portstwillow) who made all the girls (especially me) flutter by bringing special guest Peter Silberman from The Antlers to play backing guitar. The set, quick as it was, had the power to get under your skin. It was beautiful and helped cement Port St. Willow as one of my favorite acts.
After the touch of melancholic beauty, an electro pop dance party began in earnest with Phone Tag (@phonetagmusic) whose Chromeo-esq throwback grooves inspired the packed house to dance like it was 1986. It was a perfect precursor to the spectacle that was Body Language (@body_language). They lit up the stage immediately with their spectacularly energetic presence and even more energetic dance pop. They kept the whole place dancing long into the night, and not even broken equipment could stop their charm.
Check out the pictures of the show below and make sure to join us for our next one!
Photos courtesy of Eric Weiner, David English

View Photo Album

View Photo Album

View Photo Album

View Photo Album