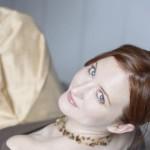 Bridgette Reas
Body Image – Style Expert Bridgette Raes
Body  Image and how we perceive ourselves can alter how others see us too. Did you realize that? If you don't like your body people can tell. If you feel good about yourself people will pick up on that too. Women seem to be told by the fashion industry what their shape should and should not look like and we are always moaning over how we just don't have that shape that's perfect.This leads us to feel unattractive. One thing I have learned through my life and my job is there is someone for everyone. No matter what you look like there is someone who will be attracted to you. The Key though is loving yourself first, after that finding someone who loves you too is simple.
My awesome friend Bridgette Raes and her co-host Amanda Jornov did a great radio show about body image, with guest, Wendy Shaker, the Author of "The Fat Girl's Guide To Life".   Wendy Shaker explains how to  love the body you have now (not the one you wish was smaller) and how to be comfortable in your own skin, with power and a sense of humor. I loved the show and have admired the work of  Bridgette Raes for some time now. (See The Link at the Bottom of this post to listen in and learn to love you just the way you are .)
Bridgette is a style expert and can guide you to fashion made for your body type and taste. Not only does she help you figure out your body type but will show you  the clothes that flatter that type. She has a cool app that will even tell you where to buy these clothes. I've had a great time playing with it and recommend you try it for yourself. Go HERE  to  her site and play with her Virtual Style Guide. Knowing how to dress yourself can go a long way to improve your body image. Bridgette can help you there.
 Body Image – What I Learned
I have a secret to tell you about how I learned a lot about body image. I struggled with my body image as most women have through out my life. Worried I had too much of this and not enough of that. I believed I needed to be thin to be attractive and fought to be that way but still never liked what I saw. In 2003 when I started my online marketing company I began working with niche dating sites. I looked at all the niches and noticed one for Big Beautiful Women. I thought what is this? I have no idea how to market this niche. I thought who will be there?  Just women who are over weight and can't find a date? No way am a marketing that one because those members won't meet a match and it wouldn't be fair. I was encouraged to market it and told it was a profitable niche. I went to the site looked through the members and to my surprise there were as many men as women there. What? I though men only wanted skinny women? Nope, not the case. That was an eye-opening day for me. I built a BBW dating site called Big-Beautiful-Dates.com and had more men than women join. I had men paying me to get the chance to meet a Big Beautiful Woman. To This day it is one of my most profitable sites.
Love The Body You Have Now
You see when you except yourself and own what you look like, you are attractive and appealing. You will meet a person who thinks you look amazing. Try to enjoy the shape you have and embrace what makes you who you are.Work on having a positive body image. God gave you the body you have, enjoy it. What a boring world it would be if we all looked the same and were attracted to the same type of person.  That is just not how people are and I don't care what billboard or magazine told you different. Love yourself and you will find someone else who will feel the same way.
Go Listen Ladies!!! Where Are You Going In That? Love Your Body…Right Now 01/06 by BridgetteRaes | Blog Talk Radio