It is not often I get excited over a finishing powder as they are generally that product where everyone has their favourite brand that they stick with and only tend to look around for a new one once it has run out. Whilst going through my daily ritual of checking my Instagram feed I spotted this stunning compact from Bobbi Brown and instantly wanted to know what it was?! Hence I found, I paid, I own. It was indeed the unique nude packaging that drew me in but it was the product itself that ultimately sold it to me.
The Nude Finish Illuminating Powder - a subtle, natural, ultra-soft translucent powder that gives skin that 'lit from within' glow with its natural blend of skin brightening botanicals and . Ultimately a sheer skin finishing powder.... light reflective powders

The powder comes in 6 shades and I chose the shade Bare. This is great for fair/light skins with it's mix of soft beige and oatmeal tones. The powder features a brick design with different levels of pearlescent pigments in skin tone correcting shades for a natural glowing effect. It contains both skin brightening and moisturising ingredients to keep the skin looking its very best.
As you can see below, three of the squares have a pearlescent finish and the other three are matte so using them together gives a very subtle glow as opposed to an all over 'disco ball' highlight.
Use this powder to set your foundation and add life to your complexion at the same time by dusting over the skin as you would any face powder. For a more subtle highlighted effect, just keep to the high points of the face as you would with any highlighting product.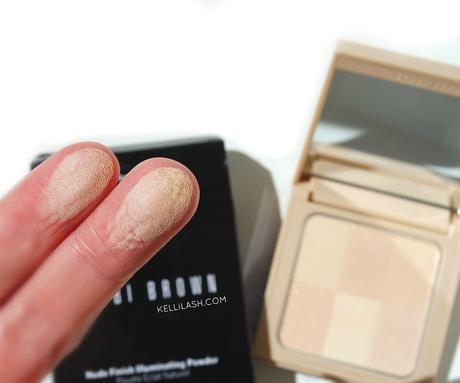 I am wearing this all over my face to add that natural glow to my complexion ....
Of course I am obsessed with the packaging as the nude compact makes such a nice change from black and you instantly know what it is when surrounded by other compacts! As for the powder itself, I love how soft and creamy it feels on the skin as it is not at all chalky and sits so naturally on the skin to magically add some subtle radiance. It takes away shine as I have an oily t-zone and this works brilliantly at keeping it under control without being too matte and dry looking as some powders can.
You will of course see a sparkle on your skin but this is only really visible when in bright lighting which may make some of you want to just stick to those high points. If your totally against glitter particles then this won't be the powder for you. I personally love wearing it all over as I am not phased by a little sparkle when it's so tastefully done in this way. This would also look really nice on the eyes as a light socket colour or a subtle brow highlight so there are most definitely many ways you can use it.
I think this product is a perfect summer finishing powder as summer makeup tends to involve using more cream textures as it's all about looking bronzed and radiant but still needing to set it all into place without taking all that glow away and this caters to that. Oily skins shouldn't be phased by this because being oily doesn't mean that you can't be matte yet radiant all at the same time.

The Nude Finish Illuminating Powder is priced at £39/$50/€48 online at and ; It is a little pricey for a powder but it does way more than just set make-up, so if your not adverse to a little sparkle and some skin brightening then I would highly recommend checking this out to add to your summer make-up bag!

Let me know your thoughts ... ;-)