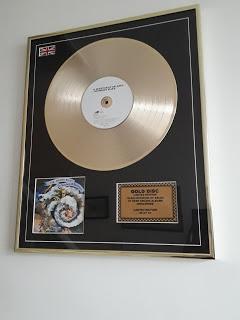 In my life, music soothes everything.There's a song for every occasion. Putting all the Christmas stuff away includes taking The Moody Blues 'December' album off the CD player. I will miss singing along to their version of In the Bleak Mid-Winter. I got strange looks in church some years ago when it sounded like I'd made up my own descant.
Back to work, reasonably accepting that this is 'my lot' for a while longer, and hopefully just a little while. I will do the best I can as we all do. We smile, we're helpful, we care and not everyone appreciates us, but that's life.The other day was enough for me to remark that the season of goodwill was well and truly over and the chill of the waiting room was a result of the frostiness of the occupants. I'm speaking my mind, after all, being quiet hasn't got me anywhere.
For those still carrying the winter blues, take a chill pill, put some music on and turn the volume up.
I've been listening to Tom Walker's 'What A Time To Be Alive', a welcome Christmas gift. He's more 'indie pop/folk' than 'blues', and younger than most musicians I listen to. My introduction to him was when he supported my favourite Moody Blues member, John Lodge on a solo tour a few years ago. You can be forgiven for thinking that I don't move far from my favorite band, though my record and CD collection is eclectic.
It would seem that The Moody Blues have stopped touring as a band. No official announcement and so far, no farewell concerts, but it doesn't matter. I've been fortunate to travel all over the country to many concerts on umpteen UK tours and have lots of good memories, some which have been shared on here from time to time. It is decades since I watched and listened in awe to a schoolboy rock band practicing 'Nights In White Satin' at youth club, or sang along to 'Question' on the juke box in our empty pub. It has been an eventful journey of wonderful music. Long may it continue with the soloists.
Aside from the Moody Blues, I like the Rolling Stones 'Let It Bleed' album for its great bluesy tracks. And just for the record, Tommy Steele's 'Singing the Blues' is the best cover.
With a blog theme of 'Blues', how could I resist the Moodies? And if you know me, you'll understand and possibly yawn. Sorry.
I wrote this poem after a night at the London O2. We were moved from ground floor seating to higher up, which I didn't want but it turned out to be a good experience in watching the arena fill up and observing other fans having a great night.     The Concert.   The lights are lowered, silence fills the arena As the minstrels move through darkness on to the stage. This is the moment, breathless anticipation, Travelling eternity road has been an age.   Then a flute's haunting melody rises above Twin guitar riffs to take lead of the symphony. Slow, bass drum, and applause reaches a crescendo, Orchestral rock and voices singing harmony.   On the threshold of ecstasy, keeping the faith, We've made this pilgrimage so many times before, To be rewarded with autographs and handshakes After waiting patiently outside the stage door.   PMW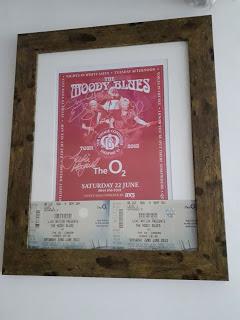 Email This
BlogThis!
Share to Twitter
Share to Facebook
Reactions: