New to little Indiana? Subscribe for free to my RSS feed. Thanks for stopping by!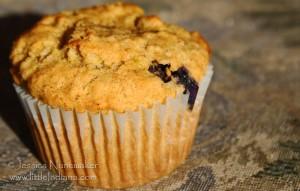 Blueberry Muffin Recipe
Blueberry Muffins fresh from the oven? I'm so there. Especially when they have just the right amount of blueberries–like these.
Blueberry Muffins
While I admit Blueberry Muffins were never my favorite muffin, after the tweaks I've made to this recipe? It's right up there with my all-time favorites!
Who knew that wheat flour in anything actually tasted good? The orange peel only enhances the blueberry flavor while the wheat germ gives it a hint of nuttiness –and adds a slight boost in nutrition! I love this stuff.
little Indiana's Blueberry Muffin Recipe

1 Cup Wheat Flour
1/2 Cup All-Purpose Flour
3/4 Cup Rolled Oats
2 Tablespoons Wheat Germ
1 1/4 teaspoon Orange Peel (to taste, start with 1 teaspoon and go from there)
2 teaspoons Baking Powder
1/2 teaspoon Baking Soda
1/4 teaspoon Salt
1 Egg
3/4 cup Milk
1/2 cup Brown Sugar, packed
1/4 cup Veggie Oil
1/2 teaspoon Vanilla Extract
3/4 cup Blueberries (Fresh or Frozen)
How To Make Blueberry Muffins
400* oven.
Grab the paper liners or grease 12 muffins cups so your blueberry muffins won't stick. Set aside.
Combine Flours, Oats, Wheat Germ, Baking Powder, Baking Soda, and Salt in bowl. Make a well in the center.
Combine Egg, Milk, Brown Sugar, Veggie Oil, and Vanilla Extract in another bowl. Combine with dry ingredients and stir until moistened.
Fold in blueberries.
Spoon batter into muffin cups. Fill to the tops.
Bake for 16 to 20 minutes (depending on your oven).
Cool in tin for 5 minutes. Remove from cups and serve warm.
See more pictures in Indiana on my Flickr photostream.
little Indiana: Where to Stay, Play, and Eat in Small Towns in Indiana. Discovering Indiana's best small towns! Now get little Indiana on your Kindle.
New! Offering affordable online advertising for your small Indiana business! little Indiana Businesses is the online presence that you've been looking for.