This is the text of this morning's Pause for Thought on BBC Radio 2's Chris Evans Show. He has a Beatles theme running through the week, so I thought I'd start there…
Listening to all this Beatles stuff reminds me of a rather weird surprise I once had in the mountains of southern Kazakhstan. Having finished some meetings with world religious leaders in the city of Almaty, we were driven up into the Alatau Mountains for a posh dinner to recover. As we turned a corner and emerged from the forest into the restaurant car park we were confronted by a bronze statue of … er … the Beatles. I've got a photo of it somewhere. I wouldn't have been surprised to find Ghengiz Khan, but Ringo Starr was a bit of a shock.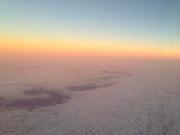 What I think is remarkable about this is that the Beatles made the ordinary extraordinary. I grew up near Penny Lane – just an ordinary area where I went to get my hair cut or to see the doctor. But, wherever you go in the world now people know about Penny Lane and the blue suburban skies.
The trouble with the ordinary becoming extraordinary is that we build up an image that ceases to relate to reality – as if there is some golden aura of sacred specialness hovering around the bus shelter in the middle of the roundabout. But, it is never like that – despite the exclamations of tourists staring at the barber shop whenever I take people there.
The 'ordinary' is where most of us actually live. Life carries on and all the regular routines of daily business just grind on… without us ever thinking that the familiar lamppost down the road might become famous.
And, given that surveys keep telling us how young people in Britain dream of being famous – for the sake of being famous, presumably – a reminder that life is lived in the ordinary things might not be out of order. Jesus spoke of being faithful in the little things, if we want to be trusted with the big stuff – and he should know, cos the whole point of him being here was for God to become ordinary right where we are.
Imagine that! Or, should I say, "Amen to that!"? (Which, of course, means "Let it be".)

Posted with Blogsy