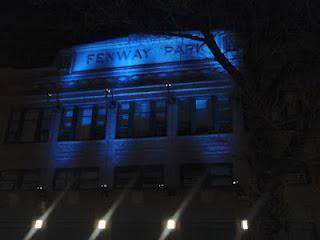 Fenway Park was among many of the world's great structures that went blue on Monday, in honor of World Autism Awareness Day.
Fenway joined the Empire State Building, the Eiffel Tower and the Sydney Opera House in going blue to recognize the fight against the scourge that is autism. I have two nephews who are affected by autism and it is a cause close to my family's heart.
It now looks as though Andrew Bailey will open the season on the DL, as he needs surgery on his thumb, and it may happen as early as today. Mark Melancon and Alfredo Aceves will be handling the 8th and 9th inning duties in his absence. No timetable as to how long Bailey will be out, but it could be a long time. And Josh Beckett has been having problems with a thumb as well, but it appears he may still make his first start of the year on Saturday in Detroit. If he can't go, Aceves may move from the pen to take his start.
Oh brother, just what the Sox need to open 2012. Injuries.