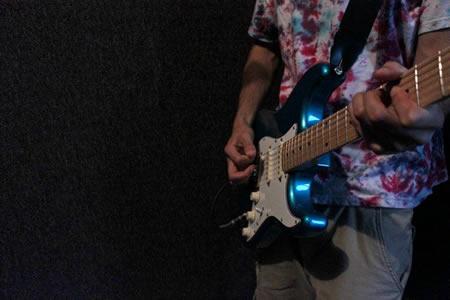 Blue Chip Village are a progressive blues band from Brooklyn who have just a self-titled EP, listing on long list of musical heroes on their Facebook page. The song sounds a bit overcrowded at times. The composing skills are clearly there, but have a tendency to wander off and loose focus. Guitarist Nicholas A. Pascarella obviously has a huge stack of Seventies six strings wizards and vocalist Christopher R. Gesualdi tries hard to sound like a frontman halfway between Ronnie James Dio on Prozac, and Wayne Coyne, with the former having the upper hand.
Using an upright bass gives the tracks an extra boost. Bass player Joe Kruse isn't so much a sideman, but more of a leader whose fellow band members haven't caught up with his intentions yet, safe for Caleb Spaulding, a drummer punctuating the back beat with a healthy dose of panache.
Stand-out track is Two and the Tag, a Klezmer flavored song, delivered with a Brian May guitar tone.
Blue Chip Village: Christopher R. Gesualdi: vocals
Joe Kruse: bass, upright bass
Nicholas A. Pascarella: electric, acoustic guitars
Caleb Spaulding: drums
Blue Chip Village is a self-released album. Download it fro free from the band's website.
Tracks:
Gusto
Black Dirt Red (Slight Return)
Lake Nebula
Two and the Tag
The Biggest Stopwatch You Could Ever Imagine
MP3: Blue Chip Village - Two and the Tag
» bluechipvillage.com
» facebook.com/bluechipvillage