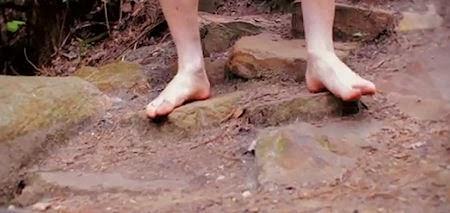 image credit YouTube
Blotevoetenpad is Dutch for Barefoot Path. It's situated in Belgium in a place called Zutendaal. When walking the blotevoetenpad you can sense with your feet the special incentives of wood, stone, tree clippings, grass, loam and water on a controlled route that is only accessible barefoot.
You can sense hot and cold, moist and dry, feel pleasant, excited and stimulated on a route of almost 2 km in Lieteberg. There are water hazards, sand hills, and steep slopes. There's also a wooden watchtower, a maze, and a suspension bridge.