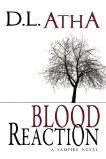 Paranormal
by D. L. Atha
Facebook
Published May 20th 2011 by Foxboro Press
Annalice, a single mother and physician, is ready to immerse herself in the mundane chores of her farm as a diversion from her hectic professional life. But she becomes the victim of a home invasion, the supernatural kind. Vindictive and cruel, Asa, a century old vampire, takes brutal control of her life and home. Forcing her to strike a bargain in exchange for her daughter's life, Annalice must not only accept his presence but also bow to his depravity. Facing threats to her only child, she relies on her skills as a physician to unravel the clues to the vampire's existence attempting to beat him at his own game.
Caught in a race against a genetic timeline, Annalice struggles to survive the Blood Reaction
. – Goodreads
ADULT CONTENT AHEAD

– SPOILER FREE ZONE
Review:
Attention to my dear readers: This is more of a paranormal suspense than romance, don't expect the happy, romantic and lovey dovey scenes-  it's not gonna happen, and you'll still like it.

I was caught unexpectedly at first when I started reading and it was a first person POV, and in the present. I kind of hoped to see Asa's POV, but a few chapters ahead, I realized that Annalice is the soul of the pages. I was anxious and curious every time I turned a new page, a feeling that I have been missing when reading a new book.

Asa blackmails Annalice in order to satisfy his needs of blood and lust. It could easily be a story around a vampire raping the poor woman over and over again (warning: there's only one raping scene and it's not a big, long, nor emotional approach ) and making her world miserable, but that's not the path chosen for this title.  Their romance scenes work really well. She's a very clever woman and he's the creepy vampire guy, but they're not stereotyped characters. The dialogs were a bit rough and I found a few typos. I have to mention that left tired and a bit annoyed every time he brought up the fact that he was oh so strong, how easily he could kill her and that he would. Come on, stop ruining the mood, Asa!

You can expect a surprising contemporary romance spiced with blood, and a very handsome vampire.  Atha penned this with a lot of care, I wasn't expecting the ending to be the way it was. I'm still shocked, I mean, how can you not?! This a fantastic debut novel that you don't wanna miss.
SEXUAL CONTENT: 4/5


RATING: 4/5



This book was kindly provided by the author. That doesn't affect my opinion about the book.