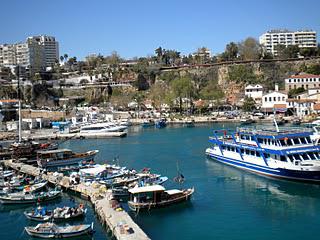 I think I finally have internet working in my apartment, so it's time to start writing the blog I promised.  Why did it take so long?  Because I'm in Turkey.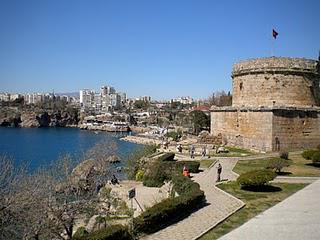 I moved into this great apartment in April (view of mountains from giant balcony below) and immediately began my quest for internet.
 I went to Turk Telecom (TTnet) and spent an hour filling out forms and struggling with my beginner's Turkish only to be asked for a residency permit which I did not have.  After looking into this I discovered that I needed a 6 month visa in order to apply, and I had only the basic 3 month visa Americans get automatically on arrival at the airport.  This meant no internet until after I go back to NY in July and get a 6 month visa from the Turkish Consulate.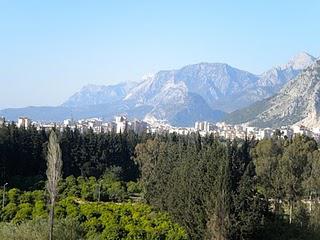 Back in NY in  I sang a benefit for Vocedoro and attempted to aquire this visa.  Unfortunately, the fact that my passport would expire within 6 months made this impossible.  I went on to CA to visit family and renewed my passport there.  I managed to get the required visa during my week in NY in August.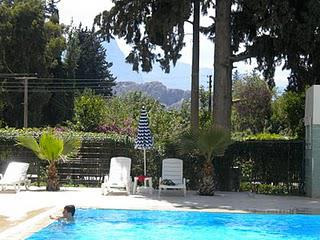 When I returned to Antalya (after an unusually cold summer in San Diego) in September, it was too hot to do anything but enjoy the pool at my apartment.   I had to apply for the residence permit within a month of my arrival, so at the end of September I began this process.  According to my Turkish teacher (who is Turkish), the website required only passport, photos, and a bank account or foreign currency in the amount of $500 per month.  So my Chase bank statement should suffice.   As if.
I got some pictures taken and headed to the Emniyet Mudurlu.  I found the foreigners' division.  It didn't look so bad, considering my friend Tatiana had said she spent the whole day there last week.  Anyway, I see several windows with numbers flashing.  Very organized.  But wait, where do I get the number?  There doesn't seem to be a machine anywhere.  Aha, that mass of humanity crowded around one window is the "line" to get a number.
Eventually I secure my very own number, and said number is called. I hand over my passport, photos, apartment lease, and bank statement.  Not so fast.  This must be in Turkish Lira, in a Turkish bank.  Here's the rub:  I tried this, and all the Turkish banks told me it's "against the law" to open an account without a residency permit.  When I explained this to the person at the window, he just shrugged and sort of said sorry.  He had no other advice.  They actually have self-contradictory laws and nobody seems to be doing anything about it.  Whatever, it's too hot to worry about it, I'm going back to the pool.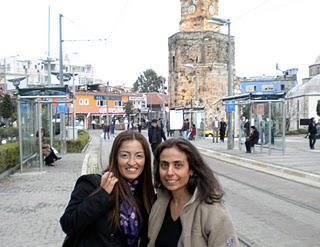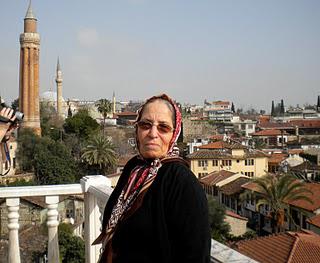 The next day I went downtown to visit my Turkish teacher Mehtap, and her mother Fadime, in Mehtap's office.  Mehtap is an extraordinary young woman who, at the age of 26, owns and operates a translation and exchange student placement office where she also teaches Turkish.  Her English is excellent, so whenever I can't find my way out of trouble I head over to her.  She said she had a friend at a bank and that he would help me.  She couldn't leave the office so Fadime came with me.  Fadime speaks no English, but she new what our objective was.  So we went to the bank and of course a) Mehtap's friend was not there; and b) we were told once again that opening an account for me would be illegal.  Fadime, however, did not back down and by the end of the day I had my very own  Turkish bank account!
But now I had to put money in it.  For some reason, only AkBank will let me access my chase account through their ATM.  So I go to Akbank and try to withdraw the required amount. But of course it will only let me withdraw 1000 TL a day, and I need 4000 in my account.  This means that for the next three days I can either take the 45 minute bus trip downtown to where Akbank and Yapikredi are near each other, or take two 40 minute round trip walks (one to each bank) in opposite directions from my home.
After this is accomplished I head back to the Emniyet Mudurlu where I'm shuttled around to another line to pay for my permit, and then to another to pay for the booklet.  I'm told to come back in a week.  This is looking good!
A week later I do in fact have my permit in my hand.  The woman in front of me kissed hers, and I wondered what country she had left that made her so grateful to be here.
I head directly to TTnet to appy for wireless internet, which requires a phone line, and thus to apply for a phone.  So far so good. I'm told someone will come on Monday, and someone does in fact come and discovers that the only working phone outlet is in my bedroom.  He asks me for a phone, which I have, but then asks for an uclu fisi, which of course I don't have.  The uclu fisi is a three-pronged plug that goes into the wall and connects to a phone cord. I would have thought the person installing the phone would have all the required parts, but no.  I'll have to pick one up and then the phone will work.
While I'm signing my name to something without reading it,  the phone guy asks me what my husband does.  I tell him I don't have one.  I'm so tired of the conversation that's about to follow, that when he asks "why not" I smile and say "sansliyim"  by which I mean "just lucky I guess".  He finds this riotously funny.  So we don't get into my deficiencies as explanation for my old maid status, but he says I can get married here. I tell him I'm too old for that. He disagrees.  I tell him my age.  He doesn't believe me.
This happens a lot.  I'm almost Fadime's age, but I like to think I look closer to Mehtap's age. (Actually somewhere in the middle.  I don't really think I look 26 to anyone.)  So I explain to the phone man that I look younger because I haven't had any husband or children to stress me out.  He is sufficiently entertained.  Okay, where's my internet?  Someone will come tomorrow he says.  Oy.
The next day, nobody shows up.  So I trudge back to the TTnet office (drenched from the humidity by the time I get there), and they tell me someone will com tomorrow.  Hmm.  After nobody shows up the following day I repeat this process.  This time they hand me a modem and have me sign my name about 20 times.  He shows me what's in the modem box, and I explain that I don't have a CD player.  He asks if I have a usb memory stick.  I do.  Well, not on me.  So I go home to get the usb and return for the modem program.  I am cautiously optimistic as I make my way home.
When I get home I take a break and shower before watching my Turkish dizi (series) Deniz Yildizi.  I find soap operas are the best shows for me to watch in Turkish because so little happens that I can't get too lost.  I like this one because it's about kids in med school and a couple of the guys are cute.  It's like my Turkish Gray's Anatomy.  Of course I don't like Gray's Anatomy, but whatever.
When I am suitably refreshed I get on the computer, plug in the stick and find the program.  But the program won't open.  Every time I click on it I get an error message about virtual pc shutting down.  I didn't even know virtual pc was running.  I eventually get as far as having the computer recognize the signal (so I'm getting skype), but I can't access the internet because I'm not signed in to TTnet.  I figure their tech support might be able to get me in.  So I spend an hour or so talking to someone who concludes by telling me there's something wrong with the modem and I have to contact the manufacturer.  This is obviously not the case.
The next day it's back to the TTnet office.  I try to explain by showing them the box on the modem where it says "requirements" and all the options are windows format.  He says someone will call me.  Someone does but doesn't solve anything.  This time I just call the office.  At 7:30 PM the guy from the office, Ahmet, comes over and does everything I did on the computer yesterday, including spending an hour talking with tech service.  He concludes the problem is that my computer is a mac.  Really?  Now that we've established that, how do I get internet?  He decides the thing to do is to bring in another computer to set up the network, and then I can access through the wireless.  So he returns an hour later with a laptop, and at the end of Thursday evening Intenet is acheived!