Wow.
There are a lot of people in Midtown Manhattan.  I live in New York, so you think I would have remembered that.
I got out of the subway yesterday at Rockefeller Center, and descended upon the Hilton.  There were about a zillion tourists and about 14 different conventions going on.  Okay, I exaggerate a little - but you get the picture.
I'm not the greatest planner.  I skimmed the Blogher newsletters that told you what was going on and where everything was.  Do you think I remembered any of that, once I hit the sea of people, at one of the busiest hotels, in one of the most populated cities in America?  No.  The answer is no.  So I basically walked around in a confused stupor, trying to remember what exactly I was trying to accomplish.  I got my badge, and headed toward the expo to retrieve my coveted Blogher tote.
This is one of the first things I saw: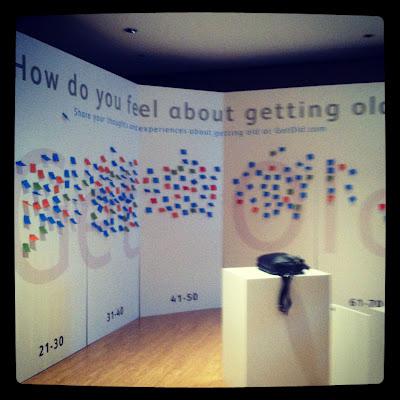 How do you feel about getting old.
  Really?  I just got here.  Why are you thrusting deep metaphysical questions in my direction.  Answer:  not great.  I don't feel great about getting old - it sucks.  How do you feel about fucking off, giant cardboard taunter?  I stopped, and answered "optimistic" (lie), and made my way to the swag.
Swag.  Overwhelming.  I get overwhelmed easily and just figured I didn't want to carry any of it.  Until I heard they were giving away vibrators.  I made a bee line for the Trojan booth.  I got to the front of the line, and gave the dude my media kit.  It is the only one I gave out yesterday.  He pulled out one vibrator, and handed it to me.  Then he started talking about some of their other products, and pulled out the super vibrator with 3 interchangeable heads.
Him: 
Do you want this one, too?
Me:
  I want all the vibrators.  I mean, yes.  I do.  Thanks.
Procuring the vibrators put me in a good mood, so I decided to give the expo hall another chance.  I happened upon a manicure booth by Kiss Nail Dress, and grabbed some samples for my step daughter.  Maybe I shouldn't have just grabbed them, because a girl approaches me and says,
Fill out our survey, and we'll give you a gift bag!
  I'm feeling a little guilty because I've probably taken more than they give out in their gift bag, so I take the survey.  I get to the results screen, and it says something like,
You are older
... I stop reading at that point.  How in the hell does this computer know I am older?  I said Rihanna was my style guru, for Christ sakes. (Not true, but I didn't know who the other two options were.)  Mood ruined.  I head to the bar.  The real bar, in the hotel lobby, because I want a martini.
I sit at the bar and have a martini.  I pay for the martini.  It's $21.  Holy crap.  I head to the People's Party.
The People's Party is a room full of people that seem to know each other.  I know no one, so I pick a table with an empty seat and join that group.  The universe loves me.  I sit next to Funky Brown Chick and Jenn motherfucking Pozner.  Jenn Pozner!  We talk about sex and politics and take pics like long, lost BFF's.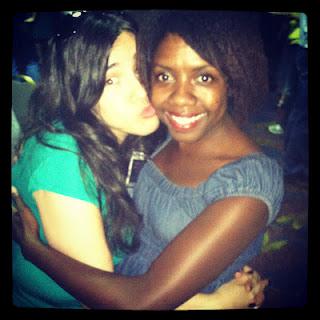 Jenn Pozner and Funky Brown Chick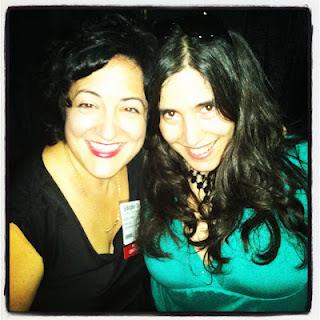 Guerrilla Mom and Jenn Pozner
Funky Brown Chick confirms my lifelong suspicion that the vaginal orgasm is a myth.  Well, not really, but she agrees that they are harder to come by.  My night has taken an awesome turn.  I walk into the hall and see Scary Mommy.  Scary Mommy!   I freaking love this woman and can't believe I get to meet her in person.  She is the coolest woman ever, and gives me her cell number in case I feel overwhelmed by the next day's activities and need to text someone.  I resist the urge to beg her to leave the whole convention behind, and paint the town red with me.  I can be cool when necessary.
This post is getting too long, and my son needs some attention.  I'll quickly say I ended the night hanging out with Somebody's Parent, who is adorable and fun, and cut the dessert line with Good Girl Gone Redneck.  Yay, churros!  Then I met Deb Rox and Mama Non Grata, whose talk I will be attending in a couple hours.
To sum up - Blogher rocks.  And, yes, I'm old - but who cares.