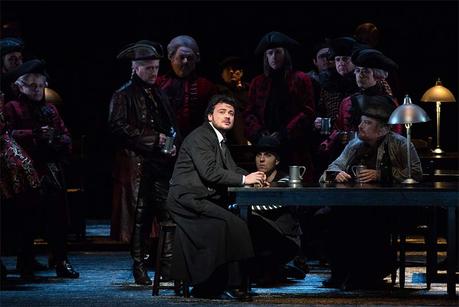 Hoffmann (Grigolo), struggling with writing and the human condition. Photo (c) Met Opera
Gentle Readers, I am the most delinquent of bloggers. I saw this season's Contes d'Hoffmann twice, and wrote of it neither after the first performance in the run, nor after the last. I took enough notes here, though, that I'd rather not let them (longer) languish, especially as the performances at the beginning and end of the run yielded rather different experiences, both interesting, and both engaging. I am almost the last person to wish to praise Bartlett Sher, whose productions have so oversaturated recent seasons at the Met (and will, alas, apparently continue to do so.) However, I really do like this
Contes d'Hoffmann
production, in its gaudy shamelessness, in its willingness to let disturbing images sit unexplained. I hadn't seen it live since
2010
, and I enjoyed it again. The Kleinzach song, of course, remains a problem--callous young men mocking a dwarf as a ludicrous figure--but there was a brief moment, at the end of the first performance, when it suddenly appeared as a despairing, horrifying commentary on the human condition.
Even with an impressive cast, Yves Abel and the Met orchestra were the undisputed stars of the evening. They played Offenbach's score with drive, with attention to detail, and with plenty of darkness and tension (and I do love darkness and tension.) The opening prelude and chorus were taken more rapidly than they often are, and I liked the sense of menace thus imparted. Throughout the evening (both evenings,) attention to orchestral texture helped the dramatic continuity and dramatic impact of a narrative that is episodic, sometimes abstract, and reliant to an unusual degree on dramatic types.
Each of the idealized women whom Hoffmann (in some way) loves displayed different strengths. Erin Morley, a house favorite, sang the role of Olympia with absolute security, and apparently absolute confidence. Morley didn't use much vocal color in communicating, but although her song appeared more like that of an automaton than sometimes, her actions appeared so far less. And this choice--Morley's own, I suspect, since I don't remember it from previous iterations--was one I found intriguing and satisfactorily unsettling. An Olympia whose actions parody flirtation is not only a more comprehensible object of desire for Hoffmann, but a more trenchant commentary on the society which sits amused by the spectacle. As Antonia, whose true tragedy seems to be that she never truly asserts her independent will, Hibla Gerzmava was pleasingly rich-voiced. Her diction and characterization were a bit vague, but the role of an allegedly impassioned artist who is so easily swayed is a thankless one. As the enigmatic Giulietta, Christine Rice was both voluptuous and heedless; this portrayal was both a vocal and dramatic one. Rice's phrasing was pleasingly nuanced, creating a convincing portrait of a woman desperately maneuvering to retain and exercise a very limited type of power.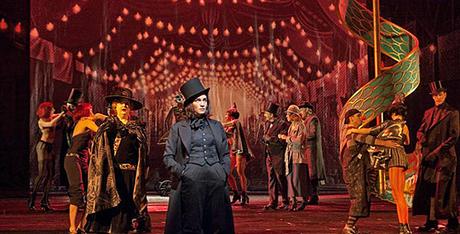 The role of Nicklausse is one that Kate Lindsey has made her own. In this iteration, her interpretation of the scholar-muse was far darker than I recall it as being in the past. This development was one I relished. Lindsey was sinister and effective, in collusion with the shadowy villains of the piece, always observing, always ironic. She used both phrasing and vocal color well, making Nicklausse's cool, calculating constancy a foil to the volatile passions of Hoffmann. While the role(s) of the villains seemed to sit a bit vocally low for Thomas Hampson, he had unequivocally the best French of the night. His dramatic authority and technical assurance served him well; it was impossible (for me, at least) not to feel a genuine
frisson
when he entered the scene... or when I suddenly noticed him, silently on its edges. Hampson's vocal portrayal also gained in profundity and nuance between the first night and the last. His Councillor/Doctor was convincing both in sensuality and in ruthlessness, and he used dynamics and phrasing well, frequently adding an unexpected twist, emotional or musical, to an altercation. Vittorio Grigolo, in the title role, I liked a great deal more than I expected to do. On the last night of the run, he gave a performance that was polished, confident, and credibly passionate; more vocally mature, too, than in previous seasons. The first night was something else again--a Hoffmann slightly vulgar, a Hoffmann occasionally shameless... and a Hoffmann increasingly, intriguingly unhinged. I loved it. Notably, too, this was a performance carried primarily through the voice, which was rich, full-bodied, and handled with finesse and recklessness which were both exciting. The sustained tension and building intensity of the performance culminated in the last wild chorus of Kleinzach, where the poet seems to find the only truth he can: that we are all puppets and fools. The philosophy of Nicklausse and the hedonism of the students appear as equally irrelevant.