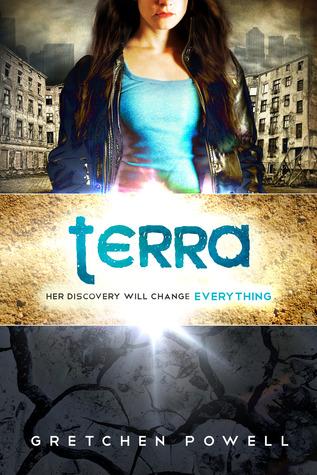 Title: Terra
Author:Gretchen PowellEdition: ebookSeries: Terrestrials #1Released Date: December 12th, 2012Publisher: Hopewell Media

Goodreads

/

Amazon 

A broken and desolate Earth. A young girl struggling to survive. A lost boy with a powerful secret.




A discovery that will change everything.




In the distant wake of a plague that has decimated the Earth's population, humanity is split in two: The rich and powerful live in skycities that float overhead, while those who remain on the ground have gathered in settlements strewn across a dying planet. Eighteen-year-old Terra Rhodon is a terrestrial--a denizen of the barren groundworld--who makes her living as a scav. Long abandoned by her father, her caregivers gone, Terra supports herself and her younger brother, Mica, by scouring the earth for discarded scraps and metals to recycle for profit. One day, while on a routine scavenging run, she discovers something that shocks her home settlement of Genesis X-16. When the value of her discovery is revealed, Terra's world is turned upside down.




Terra suddenly finds herself asking questions no one will answer. Her search for the truth leads her to Adam--a beguiling skydweller unlike any she has ever met. But Adam has secrets and a quest of his own, and with him by her side, the world Terra thought she knew begins to unravel. Soon her discoveries unearth a terrifying conspiracy that has the potential to shatter everything--a revelation that will test the bonds of loyalty, family, and love.




The first book in debut author Gretchen Powell's anticipated Terrestrials series, 

Terra

 catapults you through a story filled with blood-pumping action, intrigue, and surprising twists that will both wrench and warm your heart. As the hidden truths of this world unfold, new dangers that loom on the horizon are sure to leave you waiting breathlessly for the sequel.


This is the type of book that I would have probably picked up on my own if it were published by a bigger publisher. I'm one of those people that doesn't read self-published or indie books very often. When I heard about this book, I knew I had to get a chance to read it, but I was still a bit hesitant.


Thankfully, I was pleasantly surprised by this novel! I was honestly captivated from the beginning. I quickly read through the beginning of this novel, and only found a few flaws within in. 


Terra's character was easy to relate to, even if I don't live in the same situation as her. She kind of reminds me of a Katniss - having to provide for her family, even if she only has a brother. Instead of hunting though, she participates in scavenging, where they collect metal pieces outside the town limits to turn in for credits called "steel" which they use to buy food and other necessities. Terra takes on the mother/fatherly role and takes care of her thirteen year old brother, while still trying to grow up herself.
The relationship between Terra and her younger brother Mica is really cute. They way they act around each other is natural. I wouldn't be surprised if Gretchen Powell had a younger brother and she sparked influence from her own sibling relationships. The only issue is that I sometimes forget that Mica is older than thirteen. He sometimes acts like he's Terra's age with the things he says and whatnot. It was also kind of odd how he went into the liquor aisle at the store and was looking at alcohol. It made me forget about his age sometimes.
Another thing I really liked about Terra was the setting. Right off the bat, Gretchen Powell had a setting laid out for us. It was a different kind of place, so of course it would need some intense description. Gretchen Powell gave us descriptions easily - and they were fantastic! It wasn't an info dump or ended up being all over the place. It was painted clearly and nicely! The only thing was when Terra met Adam, I felt there wasn't much description of their location, which would have been nice.
If you like a good adventure, a good setting, and well-developed characters, then this is the book for you! I really liked this book, but there wasn't anything I absolutely loved about it. I can see a big future for Gretchen Powell!





For this blog tour, there is a giveaway! Enter below! 


Enter This Giveaway