Since deciding on taking a year out to work out what i want to do, I need to save as much money as possible! I have sooo many clothes that i don't wear/fit into or suit any more and many of them are brand new! So i thought i'd do a blog sale! (Paypal only) If you're interested in any of these items please :
1. Email me at [email protected] State which item you like (first come first serve)3. Make a paypal payment to [email protected] PLUS £2 P&P (i will combine postage too)4. Email me your address, and i will send your items within 3 days of receiving payment!
Anyway, enough of the boring talk; here is what i have for sale!!!



1. H&M Brand new floral trousers, size 12 (would fit 10) - £10 (RRP: £12)2. Vintage high waisted green tapered trousers, size 8 - £93. Primark Brand new blouse, size 10 (would fit 6-8) - £8 SOLD4. Romwe Brand new sheer blouse, one size (6-8) - £14 (RRP:£30)



5. Romwe brand new polka dot shift dress! Size 6-8 - £18 (RRP: £30)6. Max C London Brand new ivory peter pan collar blouse! size 10-12 - £18 (RRP: £30)7. Vintage blouse with embroidered collar and centre, size 8-12 - £68. Boohoo Brand new love heart green peplum top! size 10 (would fit better on 8) - £12 (RRP: £15)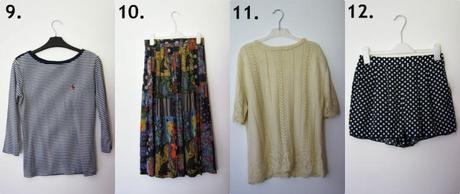 9. Ralph Lauren navy & white bretton tee! Excellent condition! Size 8 (would fit 6) - £2010. Vintage midi skirt! Amazing print! size 10 - £811. Vintage Pastel yellow fisherman jumper! Size 8-12 - £612. Ark Clothing Brand new high waisted polka dot shorts, size 8-10 - £10 (RRP:£20) - SOLD